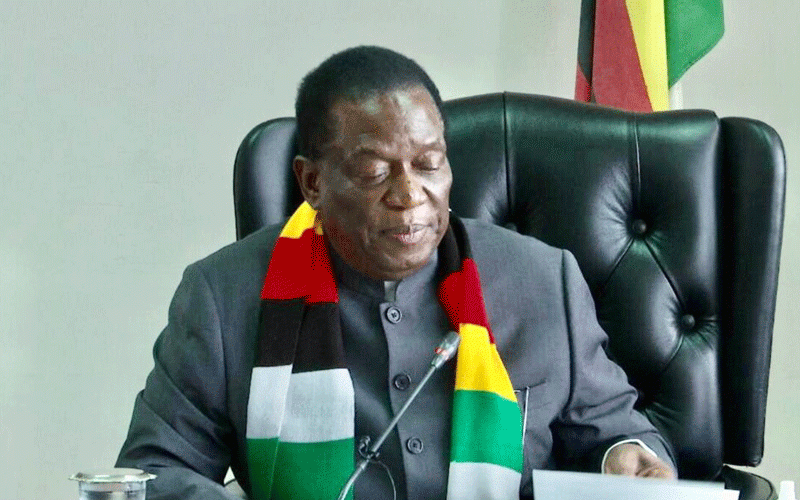 SO here we are. It is time to find the light in every Zimbabwean. When Martin Luther could not reach out to Bobby Kennedy, Bobby's bishop became the trojan horse.
What King was saying is, 'don't respond to caricature, the left, the right, the progressives, don't take people on rumour. Find the light in them because that will further your cause'.
And I have held on to that very tightly — that lesson. I sometimes just do not appear to. So, what is the price? In September 2023, President Emmerson Mnangagwa was inaugurated.
UN SG's congratulatory message
Beyond congratulatory messages, including from the United Nations Secretary General (UN SG), António Guterres, the election crisis remains. Some opinion shapers have used Guterres to suggest that the legitimacy question is now over.
Well, that is not really true, because the UN SG issued a statement in August encouraging concerned parties to follow legal and institutional channels. When congratulatory messages are sent by governments and supranational bodies, the mischief of, not propaganda on such messages, is important.
What some Sadc countries and the UN have done, diplomatically, is to use the congratulatory messages as methods of dousing flames and nothing more. Congratulatory messages are what they are congratulatory and not acts of legitimation.
Those doing so have left it to the institutions seized with the election dispute to proceed without creating an impression that they are dealing with a wounded or 'illegitimate' president before Sadc's processes are over.
While Mnangagwa's government might have played politics within the UN countries, which publicised their congratulatory messages, the UN message is clear: Whatever happens in the context of the UN SG's statement on institutional and legal resolution of the election dispute is that the UN allows the current president, as inaugurated, to deal with the opposition in an environment of peace, as part of UN's sustainable goals.
The congratulatory messages are also meant for the opposition Citizens Coalition for Change (CCC). The UN and other governments are exerting moral pressure on the CCC to negotiate within a framework that does not disturb the peace currently prevailing in Zimbabwe.
Beyond propaganda and opinion shaping, Sadc has not released any statement on what the likely remedy could be.
Where is the AU in all this?
Some would say what about the Africa Union (AU)? For starters, the AU has been giving precedence to sub-regional blocs like Economic Community of West African States (Ecowas), East African Community (EAC), or Sadc to contain crises.
We have even seen it recently when Ecowas acted first, and the AU suspended some countries that experienced coups. What then is Sadc likely to do to give the CCC an effective remedy?
The answer comes from two extremes — the Zanu PF government and the CCC. What has been doing the rounds are statements attributed to Zanu PF's Nick Mangwana and George Charamba to explain how Sadc processes work, like the possibility of an extraordinary summit being delayed.
Sadc Troika
The general populace has largely consumed something I can call, 'who is saying what Sadc will do in public spaces?' If someone is saying Sadc Troika is divided between Zambia on one side and Namibia and Tanzania on the other side, the noble step would be to interrogate the source — who is saying so — whether it is a shift character, opinion shaper or propagandist.
Secondly, is Sadc divided as we are being told or made to believe? Three, if this division was so important in favour of one party to the election dispute, why has there not been an official statement in the aftermath of the final report of the Sadc Observer Mission?
If Namibia congratulated Zimbabwe and then faced serious pressure from within, would Swapo allow the X (formerly twitter) frenzy to escalate the internal pressure as Zimbabweans are made to believe?
If Tanzania supports the Zanu PF government, why did the President of Tanzania not attend the inauguration in a brazen show of camaraderie? Did the Namibian President attend the inauguration when there was internal pressure?
Those are very important things to note. If liberation movements are teaming up, then they are for sure secretly re-examining their understanding of what it means to be under threat, including wanting to divide Sadc into two extremes.
We have seen the EFF in South Africa telling key functionaries, who use the liberation credentials, to examine themselves and realise that those who did not go to war do not owe them anything in the absence of good governance.
So, what does the above mean? Is the CCC behaving like an abused person who does not speak out but comes out when the swelling has come down? Zimbabwe is not currently posing any problem to anyone in terms of physical electoral violence.
When we wait for Sadc, to what extent are we contributing to sustainable peace in Zimbabwe? Sadc was very clear that there were no conditions for a free, fair, and credible elections in Zimbabwe.
While South Africa (SA)'s Thabo Mbeki and Jacob Zuma prevented Zanu PF leaders from being intransigent through quiet diplomacy and facilitated dialogue, the truth must be told why Sadc should tell South Africa's current ANC to manage the Zimbabwean case as a matter of regional stability.
As with a lot of diplomatic things, everything is a conspiracy, admittedly. SA's Cyril Ramaphosa has his own pressures of managing a migrant crisis by threatening arrest and deportation and boom, attending a Mnangagwa inauguration.
Sadc has prepared a final report, which has not changed anything in substance and scope, according to the Sadc Head of the Observer Mission, except in issues relating to the post-election period.
Sadc extraordinary meeting
When interpreting political ideology, we are mindful of the effects of propaganda. That way we will not have any problem with what officials like Charamba say or do not say under grand politics.
Sadc level can have ordinary or extraordinary summits. Diplomatically, when faced with extraordinary challenges, it calls an extraordinary summit.
This is no different from our basic laws on caucuses, urgent meetings, and so forth. Any refusal by any concerned party that there is no discussion on Zimbabwe amounts to hiding something serious behind the finger.
Two quick issues must be interrogated as a result. Firstly, is Sadc going to have a discussion on Zimbabwe's election dispute? The final report has been tabled and the observer mission has already set the legitimate test issue in motion.
Secondly, is Zimbabwe not experiencing an electoral crisis? If Sadc were to answer that there is no crisis, then the matter would end there. The indications are pointing to an extraordinary summit.
Status quo, compromise models
What then is needed to deal with the two extremes from Zanu PF and CCC? We have to play the middle road part. As a transformative transitional justice scholar, I have decided to focus on the status quo, compromise, and victory models of peace and crisis management.
Rigid politics that seek to maintain the status quo could lead to implosions and explosions within Zanu PF, mainly around a Forever Associate Zimbabwe (FAZ)-led victory.
The winning of the election via Faz is a thing, which I strongly believe will not settle well with other institutions, even if Faz would be treated as an extension of any intelligence, something I am not sure of.
All the other things will emanate from this Faz jigsaw unless something is 10 steps ahead of the ordinary eye. The status quo model also shows how Mnangagwa constitutes his cabinet would tell us what will likely happen.
This could warrant a transitional government or the need for a government of national unity now, and as mediated by Sadc.
For starters, we have seen the bouncing back of Vice-President Kembo Mohadi. Politically, one may say give the presidency to him, he worked hard during Zanu PF's campaign period.
Strategically, this epitomises stagnation rather than continuity because Mohadi brings nothing fundamentally new. Is it an admission that they are running out of fresh ideas even though he brings an important constituency to appease?
State House issues, necessity for choice
In all this, the evidence points to the fact that should we get the Sadc processes publicised, the middle road is urgently needed rather than intransigent politics.
Whether we like it or not, it does not look like something attractive to say that there is need for a handshake between Mnangagwa and Chamisa. But that is what it is. This compromise is why the Sadc Extraordinary Summit is important.
The modalities of that handshake would have to be agreed upon by seemingly hardline extremes in Mnangagwa and Chamisa's camps. Those two extremes need middlemen/women or moderators.
We have seen how Welshman Ncube and Tendai Biti have been removed from the limelight as one extreme reflection in Chamisa's camp. We have seen how a former social movement spokesperson has been appointed as something like pointing the middle finger to moderation.
On X we have also seen Charamba and Mangwana, who talk about lobbied extraordinary summit and no need for Sadc's involvement. It appears those two extremes might be ready to practice their extremity even though we have September and October for them to find that golden handshake.
I am sure both Mnangagwa and Chamisa are familiar with the phrase 'fog of war', which refers to the difficulty of making intelligent decisions in combat.
It is time for those within Zanu PF and CCC to give the ordinary citizen a fly-on-the-wall perspective on how crises are met, and if all goes well, contained.
While I see a victory model being claimed by both Zanu PF and CCC under motifs of state sovereignty and fresh elections, we need to know that sovereignty in Zimbabwe is linked to state sovereignty and people's sovereignty. The people remain the repositories of state sovereignty. The normative and realist politics must also realise that sovereignty is not absolute. Even the foreign policy principles of Zimbabwe respect regional cooperation, Sadc included, pointing to relative sovereignty.
Beyond scoring cheap political points, we need to start conversations that convey the mood in which major decisions are made at national and supranational levels and the attitudes from which national sovereignty and international law are reconciled.
Governments are never run on 'Twitter'. We have simple questions to guide us as we go forward. What do the Constitution and Sadc guidelines mean to us? What should have happened during the election? What exactly is at play/stake for Zimbabweans?
In the serious diplomatic circle, what would stop an extraordinary summit to resolve an election that Sadc categorised as 'illegitimate'? From Sadc's report, it is not just about Sadc guidelines but constitutional provisions that were breached.
So, for me, there is need to advice Sadc and the parties concerned, to move away from living in a world of ideology where the ideology is fighting non-existent shadows to dealing with the realities that have troubled Sadc for this long.
The same energy Sadc used to fight against sanctions on Zimbabwe should be used to fight bad politics that could create a subregional crisis or instability.
Let us have a politics that supports the real aim of the liberation struggles instead of supporting the erstwhile liberators for the sake of it. Which one is better for Sadc countries, to support the liberation gains or the erstwhile liberator?
Hofisi is a lawyer, conversationalist and transdisciplinary researcher. He has interests in governance and international law. — [email protected]
Related Topics