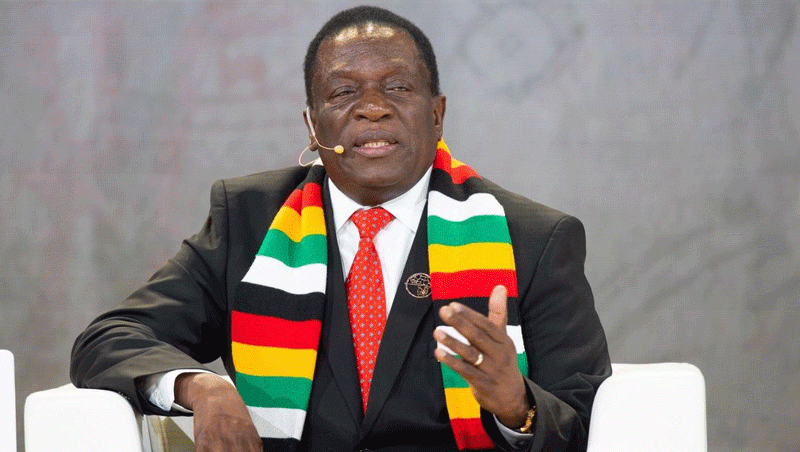 Continued from last week.
CROCODILE is an ambush predator. It is highly strategic; it waits for fish or land animals to come close, and then rushes out to attack. Its physical traits allows it to be a successful predator. The eyes, ears and nostrils are located on top of the head, allowing the crocodile to lie low in the water, almost totally submerged and hidden from prey.
Fighting corruption
In 2018, Emmerson Mnangagwa presented himself as a listening President and servant leader.
In the same vein, those occupying public offices at any level, under the Mnangagwa administration were called upon to exercise servant leadership in the execution of their duties in what was termed a new Zimbabwe or Second Republic.
Mnangagwa openly declared that bureaucratic bottlenecks, unnecessary delays, and corrupt activities will not be tolerated. He promised to create a corruption-free environment in the private and public sectors.
During his inauguration speech, Mnangagwa stated that perpetrators of corruption will be prosecuted without fear and no person or entity will be allowed to steal, loot or pocket that which belongs to citizens.
One of his focus areas was to revamp the Zimbabwe Anti-Corruption Commission (Zacc), an independent commission created to combat corruption and crime.
Zacc was established on September 8 2005. The establishment of Zacc was conducted in accordance with the Constitution of Zimbabwe and the Anti-Corruption Commission Act, which outline Zacc's powers, functions, and objectives.
However, the Zacc has been described as a "toothless dog "given the fact that corruption levels remain high in both private and public circles.
Mark & Associates Consulting Group believes that Zimbabwe needs to do all the things every emerging nation has to do to attract foreign and regional partners to not just grow but survive in the new global economy.
International investors today now possess a plethora of investment options in the form of asset classes and projects they can invest in.
The Zimbabwean government should know that Zambia, Malawi and even South Africa are competing for the same share of the investor's pocket.
In other words, Zimbabwe's economic demise has been — in a way — an advantage for other Southern African states. While Mnangagwa echoed the need to curb corruption, investors want to see more of his whip and crack down on chronic corruption that has dogged economic activity for decades.
More arrests, demotions of corrupt leaders, seizure of stolen or siphoned assets and a review of the land redistribution process would have done the trick!
Investment in infrastructure
The Mnangagwa administration also indicated that it had to modernise major roads, airports, railways, and border posts to connect Zimbabweans to each other to the region and to the world.
Further, a target to deliver 1,5 million medium-income housing units over the period 2018-2023 was set.
Mark & Associates Consulting Group notes that infrastructure consists of capital-intensive natural monopolies, physical or organisational structures, which are needed for the operation of a society and functioning of an economy.
Therefore, an efficient infrastructure plays an important role for productivity which in turn drives economic growth and development. Clearly, economic infrastructure investment drives economic growth while the latter feeds back into enhanced investment in the former.
Despite funding constraints, it should be highlighted that the Mnangagwa administration has been aggressive in terms of infrastructure development.
An analysis of the 2023 infrastructure funding mix shows that a significant portion of infrastructure development projects have been funded through debt given the limited fiscal space.
The deterioration of the local currency unit (ZWL) has also triggered occasional liquidity injections in the economy (payments to contractors), and this has been a major driver of currency instability.
Possible outcomes
The 2023 presidential race will be a tight race and stalemate in the form of contested election results. The legitimate opposition in Zimbabwe, CCC is as determined as ever to challenge the government, but the Zanu PF led government will not surrender power easily.
An Afrobarometer survey released on June 15 2022 showed that 33% of the voters will vote for the opposition CCC while 30% will vote for the incumbent.
However, one must understand the demographics and voter trends. Zimbabwe is a youthful country with approximately 70% of its 15,1 million people under the age of 35.
Generally, the higher number of voters are the older generation, who are more aligned with the ruling party. While CCC is aligned to the younger generation, a significant number of youths are not registered to vote.
Young people are also stubbornly aloof when it comes to elections. Many of them do not register to vote. Even if they do, they do not show up on polling day.
In 2013, a report by the Research and Advocacy Unit revealed that close to two million young Zimbabweans below the age of 30 were unregistered.
In 2008, approximately one million eligible youths under 35 did not register.
Meanwhile, Zanu PF has been on an aggressive campaign to attract new members to the party with a target of mobilising five million votes. Zanu PF also has a strong-hold in rural areas where it has been accelerating its campaign agenda. The population of Zimbabwe as of April 20 2022 was 15 178 979, of which 7 289558 (48%) were male and 7 889 421 (52%) were female, giving a sex ratio of 92 males for every 100 females. A look at the population distribution shows that most of the population in the country reside in rural areas (61,4%).
Post-election violence
Zimbabwe is likely to experience post-election and instability. As has been the case in the past, the risk of politically motivated violence increases the closer Zimbabwe gets to elections.
Political violence towards and during polls has always been a big issue. Afrobarometer surveys conducted in Zimbabwe in 2009, 2010, 2012 and 2014 reveal a worrying trend about citizens' freedom to associate with political organisations of their choice.
The 2018 presidential elections were marked by incidents of violence. This was a result of protests by opposition party supporters against the Zimbabwe Electoral Commission (Zec).
There was also abundant evidence of the suppression of freedoms. For example, in January 2019, protests broke out in major cities after the government more than doubled fuel prices to tackle fuel shortages and the black market.
In addition, the government ordered a partial internet shutdown, and mobile and internet service providers were ordered to block citizens from social media sites.
The military factor
The Zimbabwe Defence Forces (ZDF) remains a threat to credible elections. We note that the ZDF played a leading role in the 2017 coup d'état that removed long-serving President Robert Mugabe and installed his deputy Emmerson Mnangagwa as his successor.
Constantino Chiwenga was the head of the military at the time and was rewarded with the position of first vice-president.
His successor as ZDF commander, Valerio Sibanda, also occupies a prominent role in Zanu PF. Some critics have suggested that the military will simply not allow a Zanu PF defeat.
Strategic position options
Mark & Associates Consulting Group acknowledges that there are uncertainties and that the upcoming political events may derail the long-term growth outlook for Zimbabwe.
The list of headwinds facing the economy, include elevated inflation pressures, policy uncertainty due to elections and restrictive monetary policy.
It will also take time for political discord and uncertainties to fall away. Given this backdrop, individuals, households, and businesses should focus on a selective strategy that involves cashing out of Zimbabwe dollar (ZWL)-denominated assets and parking funds in near-cash United States (US) dollar-denominated assets (safe-havens). The available options of safe-haven assets include (i) USD cash, (ii) gold, (iii) local and international real estate and (iv) art pieces.
Mark & Associates (M&A) Consulting Group is a strategic advisory firm focused on critical issues at the centre of economics, business, politics and society. (https://markassociates-portal.web.app). It offers a customised and adapted strategy consulting service, incorporating deep knowledge of both global and local dynamics. Its focus is on helping business and policy leaders make informed decisions based on cutting-edge insights. Founder and CEO of PiggyBankAdvisor Batanai Matsika is a director at M&A.
Related Topics