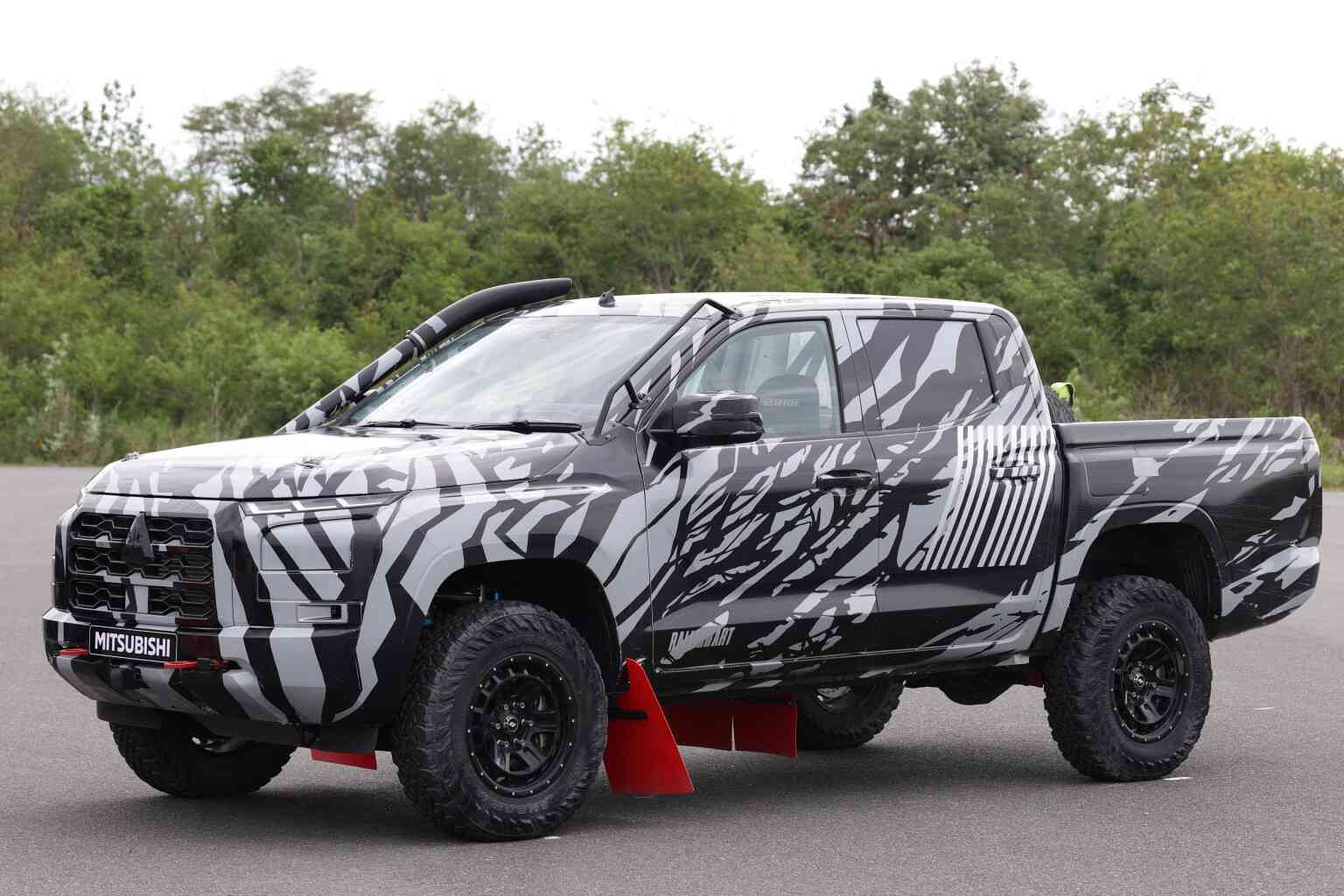 LAST week's edition of the motoring page received a lot of reads. It was titled My father, my hero. It was widely read and I got a lot of comments.
My father went on to pass away a few hours before it was published. I will do another piece soon on my relationship with my father as his journey came to a halt.
I have to be in the right frame of mind to come up with a good piece. Some have asked me to write a book as it will help a lot of people on father and son relationships. Maybe one day I will.
Today let us talk about the 2024 Mitsubishi Triton
On July 26 2023, Thailand will host the world debut of Mitsubishi Motors' completely revamped Mitsubishi Triton one-tonne bakkie. Motoring Journal believes the truck will be in Zimbabwe by the end of this year or in the beginning of 2024.
The Triton is a global strategic vehicle for Mitsubishi Motors that has garnered positive reviews in the ASEAN area, Oceania, Latin America, the Middle East, Africa, and other markets for its robustness, durability, and driveability as well as the comfort and ride quality needed for private usage.
The sixth generation of Mitsubishi Motors' midsize bakkie, the all-new Triton, has been redesigned with a strengthened body and a strong, horizontally-themed style.
At the front, the new model's impressive presence and robustness are highlighted by the combination of daytime running lights that resemble the hawk's razor-sharp eyes and a set of three-dimensional headlights below.
According to Jeffrey Allison, general manager: Marketing at Mitsubishi Motors South Africa (MMSA): "I know that current as well as new fans will show an overwhelming interest in our all-new Triton bakkie, which will strengthen MMSA's lifestyle attraction - stay tuned for more exciting news.
"The all-new Triton has been completely reimagined under the design concept Beast Mode, or audacious and daring," Seiji Watanabe, division general manager of design at Mitsubishi Motors, said.
The all-new Triton combines agility with the brand's substantial design to create an intimidating look while communicating the toughness and power expected of a pickup truck.
The brand-new Triton's durability and dependability will entice clients to embark on any adventure.
Please anticipate seeing it in its entirety in July.
With broader wheel arches, a powerful shoulder profile, and narrower headlamps, Mitsubishi's XRT Concept gave it a sneak peek in March. Also anticipated is a greater footprint. The single-cab version is anticipated to arrive later.
The 2.4-litre four-cylinder turbo-diesel engine used in the current Triton and Pajero Sport will remain in the new Triton, the report claims.
Mitsubishi's top executives are not exactly sure what the performance brand will look like yet, but it will be about passion, performance, and durability.
It is unknown if Mitsubishi will modify the engine and transmission to more closely compete with other four-cylinder rivals, which have outputs closer to 150kW and 500Nm, a towing capability of 3500 kg, and a 10-speed automated transmission for the most recent Ford Ranger and Volkswagen Amarok.
The current Triton has a 3.1-tonne braked towing capability, six-speed manual or automatic transmission options, and produces 133kW and 430Nm.
On a dedicated website for Mitsubishi Motors, a movie that provides a behind-the-scenes peek at the creation of the brand-new Triton as well as a video message from the designer are now accessible.
As the bakkie segment heats up in Zimbabwe, the upcoming Mitsubishi Triton is looking likely to receive a performance bump thanks to dual turbochargers.
The 2024 Mitsubishi Triton has been teased yet again, a little more than two weeks before the next-generation bakkie's global unveiling.
In the latest teaser, Mitsubishi says the all-new Triton will be underpinned by a "newly-developed ladder frame chassis," and will be powered by a "clean diesel engine," with an image of an engine being shared for the first time.
But while engine specifications have yet to be confirmed by Mitsubishi's local arm, Drive understands the Sub Sahara market could be in line to receive a twin-turbo diesel engine with increased performance.
The twin-turbo engine — which will likely be offered at the top end of the Triton line-up — is expected to provide a power boost to ensure the Japanese bakkie remains competitive within the segment.
Zimbabwe's two best-selling vehicles, the Toyota Hilux and Ford Ranger bakkies, produce as much as 150kW and 154kW respectively from their four-cylinder diesel engines — while the Ranger and its Amarok twin also offer a diesel V6 with 184kW and 600Nm.
Meanwhile, China's P Series has a 2.0 L engine with Power Maximum. 120 kW. Torque Maximum of 400 Nm. Fuel Type is diesel. It comes with a fuel Consumption of 9.4 l/100km.
As the bakkie segment continues to heat up — with growing competition from Chinese pick-ups — buyers are being lured towards bakkies with more powerful engines.
Zimbabwean families increasingly use their bakkies as family cars rather than solely as workhorses for transporting tools and building materials, with the Toyota Hilux crowned the country's best-selling vehicle for a number of years in a row — and the Ford Ranger nipping on its heels in the sales race.
Zimbabwe needs to become a key market for the Triton, with Mitsubishi revealing images of a prototype vehicle towing a caravan on roads.
Exactly which engines are secured for our market will be confirmed soon enough, with the 2024 Mitsubishi Triton making its debut by end of 2024 I suspect.
Related Topics