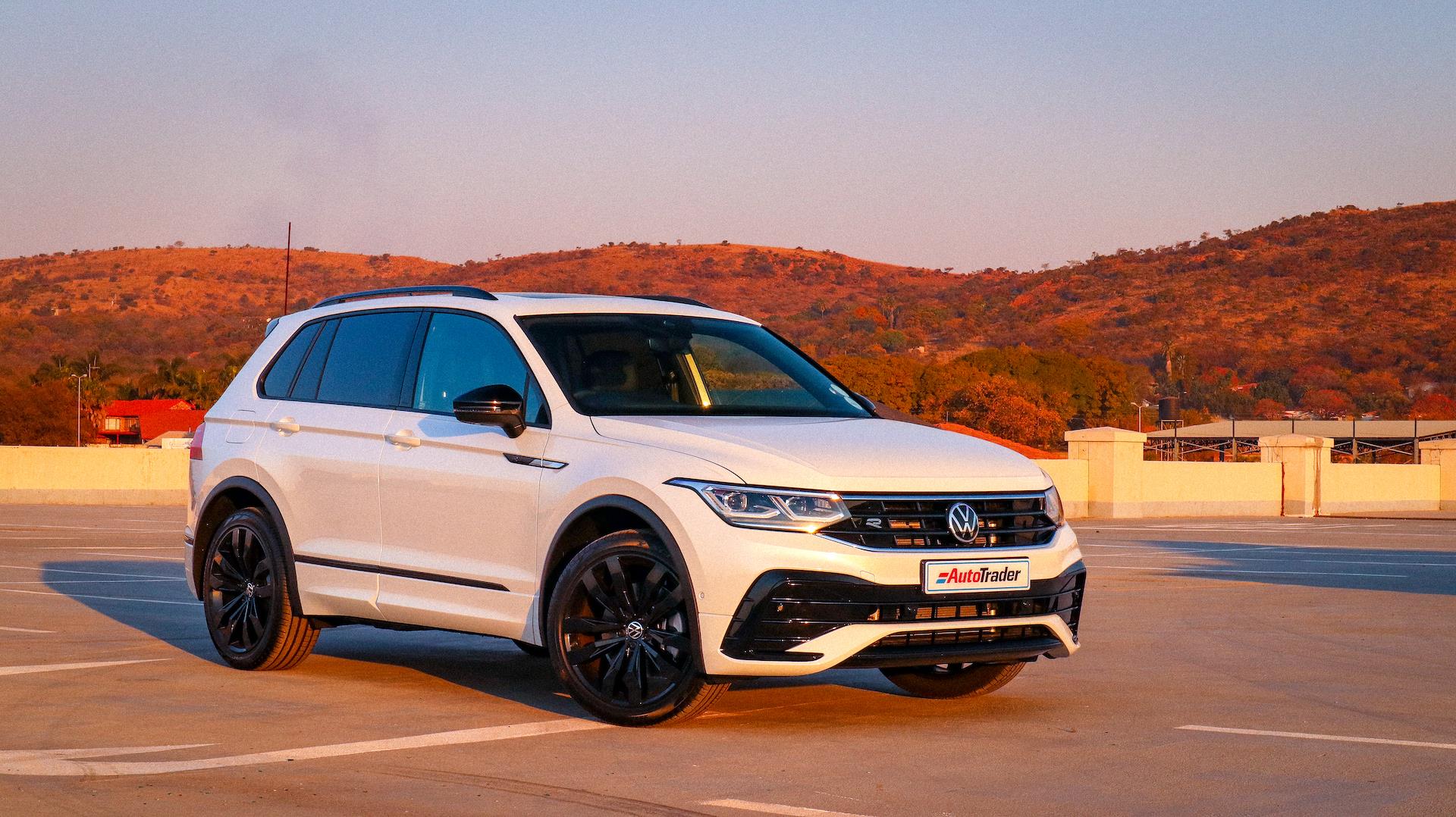 Andrew Muzamhindo A CHIC, functional little SUV with room for your buddies. Recently,The technical data sheet is a boy racer's fantasy: An aggressive body style, a Golf GTI engine, a dual-clutch gearbox with rapid shifts, and sporty alloy wheels. had a very extensive update. Due to global microprocessor shortages that have impacted the automotive industry, it is currently difficult to purchase. I have observed a few in my neighbourhood.
The technical data sheet is a boy racer's fantasy: An aggressive body style, a Golf GTI engine, a dual-clutch gearbox with rapid shifts, and sporty alloy wheels.
Due to all of this and the useful benefits of the attractive Tiguan SUV body form, the Volkswagen Tiguan 2.0 TSI 4Motion R-Line has earned the reputation of being the GTI of SUVs. Like the most recent Golf GTI, the most recent Tiguan provides more of the same thing but with an even sharper edge.
New and exciting thinking Excellent exterior and creative interior. The new Tiguan is an example of what it means to continually reinvent oneself. Volkswagen did not need to do much in this area because the second-generation Tiguan has always been a really attractive take on the mid-sized SUV concept. As a result, the 2018 Tiguan's visual updates are very subtle, and you would have to pay close attention to notice them.
The Tiguan's front end had the most noticeable restyling, as the grille has grown slightly wider and the headlamp clusters have somewhat shrunk. While the DRL signature also links into the new corporate VW appearance, the headlights (now LED as standard across the range) feature a similar rearward extension to that seen on the Golf 8.
A revised bumper with an increased lower air intake and the majority of the trim components blacked-out as part of the optional Black Style Package completes the nose of our test vehicle. This particular car's iridescent white exterior is nicely contrasted by the gloss-black mirror caps, black roof rails, black 20-inch "Suzuka" wheels, and other design additions.
Only a newly designed "R-Line" trim inlay in the fenders really identifies the new model in its side-on view; the severe creases down its flanks are still present. The "Tiguan" lettering's new location beneath the new-style VW mark is the most noticeable change from the back, but other minor updates include the LED tail light clusters (which now feature VW's clever sequential indicators) and bumper detailing.
Powerful Performance Although coupled to a 7-speed dual-clutch automatic transmission and 4 Motion on-demand all-wheel drive, it will produce 162 kW and 350 Nm.
According to the performance promises, the SUV can accelerate from zero to 100 kilometres per hour in under 6,5 seconds, while its top speed is limited to 225 kilometres per hour. The transmission is well-programmed to take advantage of the engine's torque plateau between 1 500 and 4 400 r/min for powerful overtaking prowess and effortless cruising abilities, and it feels about as speedy on the road as well.
However, all driving modes—aside from "Sport"—feature very sluggish gearshifts, with general driving smoothness clearly taking precedence over extreme sharpness.
In contrast, downshifts are typically held off until the driver exerts more than light pressure on the accelerator, relying on the wide torque spread for acceleration rather than slamming the revs. This results in deceptively quick acceleration, lessened engine noise, and reduced fuel consumption—an acceptable trade-off for a car of this kind.
The Drive The 2018 Tiguan does not feel much different from previous MQB-platform cars when you are behind the wheel, save for the fact that its seating position is a little higher than average. That is hardly a drawback, mind you, as MQB vehicles — like the new Tiguan — tend to be exceptionally well-organised and refined.
Certain characteristics certainly stand out as exceptional, particularly for this market. For instance, a steering rack with a variable ratio provides a quick steering ratio at low speeds and a slower steering reaction at high speeds.
The resulting technology provides ample steering help, minimises wheel twisting during parking, and completely eliminates uneasiness while driving on the interstate.
Although it is not especially communicative (few such systems are), it does make the Tiguan feel smaller than it actually is in restricted spaces and more steady than it should be while travelling at high speeds.
The 255/40R20 Pirelli Scorpion Verde tires in each corner contribute to the overall high levels of road grip, while the 4 Motion AWD system and chassis control electronics aid in maintaining tight control of the situation.
Space and comfort The dimensions of this Tiguan are in keeping with the mid-size SUV pattern because it is the regular-sized Tiguan and not the supersized Allspace (which has yet to be locally launched in facelifted form). Even though it is only slightly longer than 4,5 metres, innovative packing allows for more cabin and utility space than you may think.
The cabin has enough head, shoulder, and legroom for all passengers and can fit four large people (or five average-sized ones) comfortably. A newly-added movable rear seat, which enables the capacity to be divided as needed between the boot and passenger compartment, increases versatility.
All Tiguans come standard with cruise control, LED headlights, leather steering wheel trim, and the basic "Composition" colour touchscreen infotainment system. This adds to an already extensive base specification.
The "Life" grade includes an electric tailgate, front cornering lights, front and rear parking sensors, 3-zone climate control, and new, simple touch-and-swipe controls.
Keyless entry, an opening panoramic sunroof, a head-up display, an inductive charging pad, the "Discover Pro" infotainment upgrade with wireless app connect, a rear-view camera (surround view is an additional option), a thunderous Harman Kardon sound system, IQ Lights (upgrading the standard headlights to adaptive matrix LEDs with 22 individual elements per cluster), a panning camera, and a panning mirror are just a few of the optional.
The latter includes automated emergency braking, lane-keeping assistance, adaptive cruise control, and blind-spot monitoring. However, at this price, IQ Drive and keyless entry should be standard, especially for the top-of-the-line R-Line model.
New level for safety In its 2016 Euro NCAP crash test rating, the Volkswagen Tiguan got 5 stars, with adult occupant protection being very excellent at 96%. The required ABS with EBD and BAS, stability- and traction control, rear ISOFIX child seat anchors, and six airbags are all included in the standard safety kit. However, as mentioned above, our test car had a number of additional safety modifications that came at an additional expense, many of which were desirable additions to the basic specification sheet.
Fuel economy Volkswagen estimates that the Tiguan 2.0 TSI 4Motion should use 8,3 l/100 km on average, but our test vehicle's trip computer recorded 9,8 l/100 km for mixed cycle usage. Low-speed/stop-go driving (such as in town or in a game reserve) quickly raises it closer to 12 l/100 km, but freeway cruising should result in low-8 l/100 km statistics.
Even while the real-world economy is decent, it isn't exactly as thrifty as you would want.
However, the fact that a 130 kW TDI variant, the only diesel planned for the new range, will enter the local Tiguan line-up before the end of 2022 should comfort fuel-sippers.