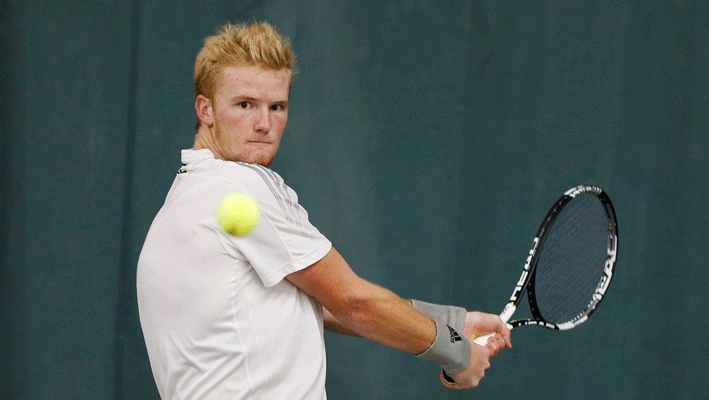 BY MUNYARADZI MADZOKERE ZIMBABWE tennis player Courtney Lock has been voted onto the influential International Tennis Federation (ITF) World Tennis Tour Player Panels where he will represent Africa Region for the next two years.
Lock, the younger brother of local tennis ace Benjamin, garnered 19 out of a total of 200 completed ballots received for the election of seven players to make the Player Panel for men.
The 25 year-old, doubles specialist, who is also a member of Zimbabwe's Davis Cup team took to social media to express his excitement to receive the honour of representing African tennis players on the panel.
"Excited to be voted on to the ITF Players Panel representing Africa Region for a two year term. Looking forward to representing the players in working with ITF and the other panel members, while playing on tour," said Lock.
The ITF World Tennis Tour Player Panels which are elected by players on the circuit have the primary task of providing a forum for players to offer their contribution and have their say on how the tour is run.
Other players who made the men's players panel include Michalis Sakellaridis from Greece who had the most votes, Italian Francesco Vilardo, Juan Pablo Paz (Argentina) Jesse Flores (Costa Rica) and Niki Kaliyanda Poonacha (India).
Ines Ibbou from Algeria is the representative for Africa Region on the women players' panel.
"We established player panels on the ITF World Tennis Tour in 2020 in order to facilitate valuable discussion and gain feedback from the playing community regarding the Tours," ITF president David Haggerty said.
"We would like to thank the outgoing panel members for giving their time and input, particularly through the challenging circumstances of the pandemic.
"We look forward to working with the elected members of the player panels to ensure that players' opinions are at the forefront when making decisions about the World Tennis Tour," he added.
The elected player members will serve a term until the end of the 2023 season and will meet at least two times per year.
Australian doubles tennis great Mark Woodforde will chair the men's tennis panel while two-time Grand Slam Mary Pierce chairs the women's panel.
Woodforde and Pierce are also athlete representatives on the ITF Board of Directors.
ITF also plans to appoint a coach for each of the two panels.
Lock gets the recognition four months after his return to active tennis after a year on the sidelines following a double hip surgery in KwaZulu Natal, South Africa in August 2020.
Alongside his brother Benjamin, Courtney Lock has won 13 doubles titles on the ITF circuit between 2016 and 2019.
Last week, the pair had a promising run halted in the semi-finals by the doubles partnership of German Loic Cloes and MaratDeviatiarov from Ukraine at the M15 Monastir competition in Tunisia.
It was the first time the two were playing together in 2022.
Related Topics