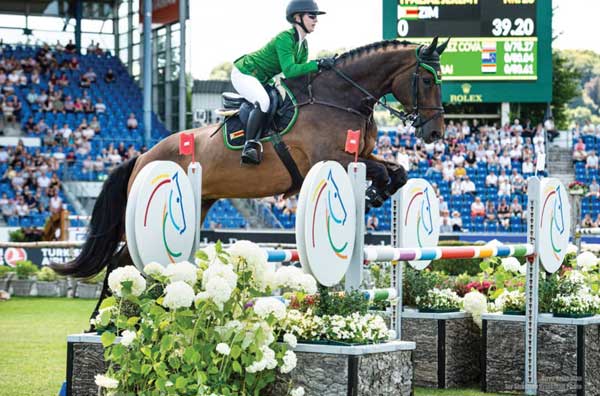 BY MUNYARADZI MADZOKERE HER love for horses began when her brother was diagnosed with cancer and the family had to move to South Africa about 11 years ago.
Top Zimbabwe teenage show jumper Amy Hay's mother Shayne then took her to a riding school in South Africa as a way of distracting her from the pain that her sibling was going through.
Hay recently made history by becoming the country's first athlete to compete at Youth Equestrian Games in Aachen Germany recently.
The event, which featured riders from 30 countries and six continents, took place from June 23 to July 3.
Not only did Hay compete at the prestigious youth event, she was also part of the Africa squad that also scooped bronze in the continental team event.
Hay achieved qualification to the Youth Equestrian Games after attaining double clears in the second and third competitions of the International Equestrian Federation (FEI) Category A World Jumping Challenge in Johannesburg last year.
She also finished a credible 12th in the overall World Rankings for Category A.
The 17-year-old rider also won a gold medal in the South African Youth Grand Prix Championships in Cape Town last year.
She reflected on how it all began as well as her Youth Equestrian Games experience in an exclusive interview with The Sports Hub.
"In 2011, my brother got cancer and so as a family we had to move to South Africa. My mum wanted me to do something fun that would distract me from him and so she took me to a little riding school where I learnt to trot around. In 2013, when we were back in Zimbabwe, I won my first ever competition in the 60cm on my very cheeky pony Tiara and that's where my love for horses began," she revealed.
"Taking part in the Youth Equestrian Games was a dream come true. I learnt so much and the experience was incredible. I wish I could go back in time and relive the whole thing over and over again. It was so well organised, and I have made some great friendships with riders from all over the world.
"Winning the bronze medal in the team event is something I will never forget. The feeling was amazing, especially since I did it alongside my friends. We all went to the Youth Equestrian Games hoping to be on the podium. However, we also all agreed that no matter what, we should have fun, make memories and ride our best.
"We had a really strong bond as team Africa. We were all positive in one another's ability, and gave each other confidence, and I think that helped us get the bronze," Hay said.
Hay's participation at the Youth Equestrian Games also delighted her family, especially her parents Stuart and Shayne who have invested so much in her career in the past decade.
"I felt incredibly blessed and often emotional to have been able to watch my daughter ride in the most famous show jumping arena in the world. The whole experience was surreal and extremely humbling. Amy is the first Zimbabwean to have ridden at Aachen, which was indeed an honour," Stuart Hay told The Sports Hub.
Stuart Hay also spoke about the sacrifices the family has had to make for Amy to be where she is now.
"We are currently looking for a sponsor to assist in this area. Show jumping is an expensive sport, and this is perhaps one of the main issues we have encountered as a parent. We have had to forsake certain luxuries in order to pay for the horses and their upkeep. These costs are on-going, and require disciplined budgeting.
"There is also the time factor, as horses have to be fit and need constant training, so they need to be ridden most days. It is not recognised as a school sport, so Amy has had to ride early before school or after her sport at school which takes time and dedication for everyone.
"Amy does most of her riding on the South African circuit, which involves a lot of travel in and around Johannesburg, as well as Polokwane, Durban and Cape Town. The horses need to travel by road, so there is a lot of logistics and careful planning that go into this.
"This year alone she has ridden in South Africa, Algeria, Morocco and Germany. All of this travelling has interrupted Amy's examination schedule as she is due to write her A levels this year. We have had to manage this all as best we can, and substitute with extra lessons which also come at a cost," he said.
Amy's long-time coach Charley Crockart also shared her sentiment on Amy's performance in Aachen.
"I think Amy was an incredible ambassador for Zimbabwe and a lot of people will remember her for her team spirit and her kindness. She is always smiling no matter what happens in the ring. I think she did the best she could with the horse she drew although we didn't get the results we wanted but I am proud of her.
"I started coaching here before feet could reach the bottom of the saddle and as a show jumper Amy's biggest quality is her will to win, she is a real fighter and she doesn't give up and always gives her best in the ring," she said.
Related Topics