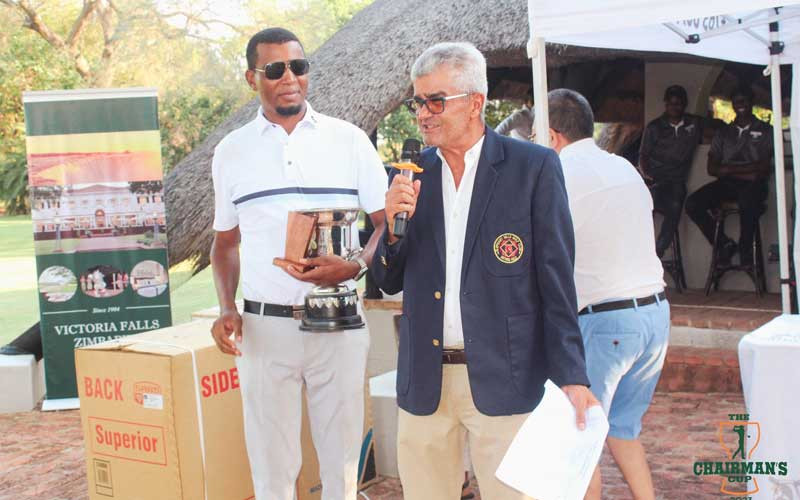 Moses Ruwona needed a sudden death playoff victory over Butch Berner to scoop the Chairman's Cup golf tournament which was making a welcome return after a four year hiatus at Elephant Hills Golf Club in Victoria Falls on Sunday.
Ruwona, a local favourite, teeing off first in the playoff played a majestic iron shot to leave the ball half a meter to the pin thus putting massive pressure on Berner, who under the pressure deposited his tee shot in the water.
After that Berner simply walked towards Ruwona and congratulated him as the new 2023 Chairman's Cup winner.
It was Ruwona's maiden win in the tournament.
Apart from the overall championship, Ruwona also walked away with the Stephen Ford Trophy for his leading performance on Saturday while Berner won the Mike Mino Trophy for being the best player on Sunday.
The field was not as big as the previous tournaments which was a major, The Elephant Hills Open but however the Chairman's Cup is always the most competitive as it is played on points, individual stableford and everyone had a chance to win it because of handicap system.
Players came as far as Harare and Zambia (Lusaka), Hwange Golf Club had a handful of players and the Zambian contingent was led by the evergreen Brush Parbhoo.
Elephant Hills Captain Sanjay Bhukan and Tej Naik; and Kasolo travelled from as far as Choma and Lusaka.
Ladies were well represented by club Lady Captain Terry Tshamala and deputy Yvonne Jandles with Coletta Mhonda coming from Hwange and Chef Naomi Chisango also taking part.
Golfers who played well were rewarded handsomely on a colorful prize giving ceremony graced by Derrick Kung one of African Sun bosses and the GM Chiku Mulinde who also played and had a tough outing.
The Chairman's Cup golf tournament showcased the very best of what golf represents – precision, skill, perseverance, and camaraderie.
This tournament brought together individuals from diverse backgrounds, united by a shared passion for this beautiful game. It has created bonds and strengthened friendships.
Related Topics