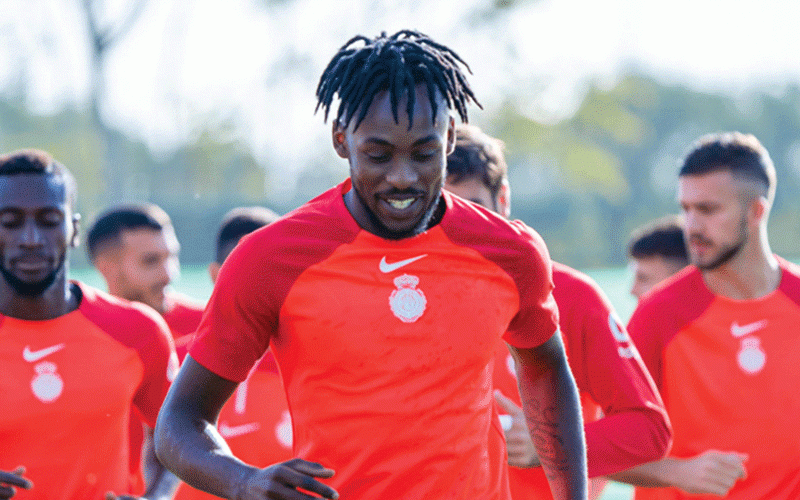 WARRIORS striker Tino Kadewere 's touted move to French Ligue 1 side Montpellier has been put on ice after the club cooled their interest in the 27 year old attacker.
The club was reported to have been keen on the Lyon forward, but have now set their sights elsewhere with coach Michel Der Zakarian not entirely convinced by the former Harare City player.
Kadewere spent last season on loan to Spanish side Mallorca and has since returned to Lyon where it seems he is also not in his coach's plans.
Lyon started off their new campaign with a 2-1 defeat to Strasbourg at the weekend and will be hoping for better fortunes when they host Montpellier on Sunday.
French publication Allez Paillade, which first reported of Montpellier's interest in Kadewere last month, this week revealed that the deal is now off the table.
"We revealed to you exclusively a few weeks ago that Montpellier was interested in the Zimbabwean striker of Olympic Lyon, Tino Kadewere," the website reported.
"According to our information, while the discussions had accelerated in recent weeks for a possible arrival of the 27-year-old player in Montpellier, we are today able to announce to you that everything has cooled down considerably and that an arrival of the player in Montpellier is unlikely.
"Indeed, the Montpellier would not have followed up, in particular because of the Pailladin coach, Michel Der Zakarian, not completely convinced and the player would have been tired of the situation, which he finds too long to settle."
The publication suggests that the departure of Cameroon striker Toko Ekambi from Lyon could benefit Kadewere.
"For their part, Olympic Lyon have just sold Karl Toko-Ekambi and the lack of attacking players could allow him to gain playing time."
Only last week the publication reported that a deal was imminent after a round of discussions between the clubs and with the player keen on the move.
"We revealed to you a few weeks ago that Lyon striker Tino Kadewere was interested in Montpellier, an interest later confirmed by Bertrand Quenette on France Bleu Hérault," it reported.
"We are able today to announce that discussions have intensified in recent hours between Montpellier and Lyon.
"The Zimbabwean international striker is, according to our information, very interested in the idea of joining the Montpellier. While contacts have been broken between Kadewere and Montpellier so far, discussions have indeed advanced between the different parties.
"Everyone is hoping for a quick deal. He is considered undesirable in Lyon and Montpellier has understood this well. He is estimated at €4 million (US$4,34 million)on Transfermakt and he only has one year left on his contract.
"Montpellier is not alone, however, and even if the MHSC is the most advanced in the file, other clubs including Leganes are also interested."
It is not clear whether Spanish side Leganes are still interested but having spent a year in that country's topflight league a return would not be the worst thing even though it would be at the second tier league. Once he settles his future, his focus would be on staying fit and put as many matches under his belt, having missed a large chunk of last season due to injury.
Zimbabwe will be involved in the 2016 Fifa World Cup qualifiers starting in November where they will play two group matches.
Kadewere is one of the players likely to be summoned for international duty as the Warriors make a return to international football following the lifting of the Fifa ban on Zifa.
Zifa is currently in the process that will lead to the appointment of a new coach and have a heap of applications in their in tray from both foreign and local coaches.
They hope to finalise the appointment of a new coach by the end of the month.
Zifa is hoping to organise friendly matches for the Warriors in the two international breaks coming up in September and October.
Related Topics