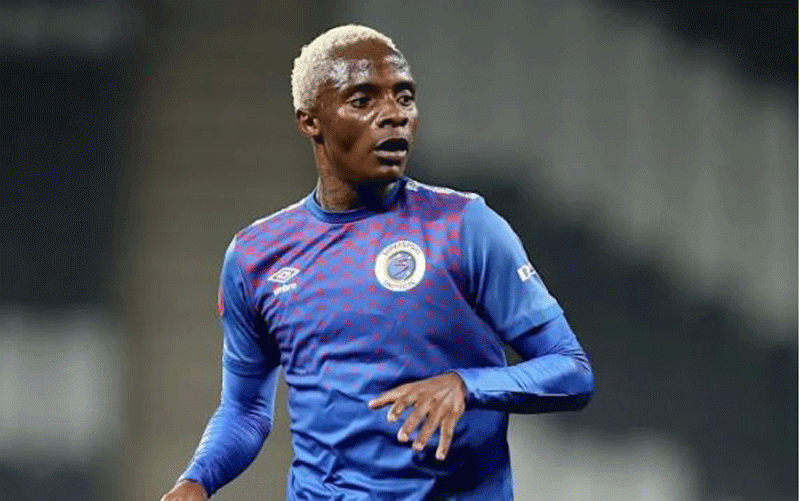 Warriors forward Kuda Mahachi is looking forward to a fresh start to his football career in Ghana, which for many months looked doomed as attempted murder charges stalked him.
The former Highlanders star was acquitted of attempting to murder his four-year old son by scalding him with hot water and assaulting him with an iron bar as had been alleged by his ex-wife Maritha Ndlovu.
Mahachi was acquitted in November last year after Supersport had suspended him in May, where they also advised him that his contract would not be renewed after expiry in July of the same year.
Mahachi has now arrived at an unlikely destination in Ghana, with new avenues opening up for the talented winger as he enters the Caf Champions League Medeama.
His story mirrors that of former Manchester City left back Benjamin Mendy, whose contract was cancelled by the English topflight giants after he was arrested on a number of rape allegations, of which he was later cleared of all.
He is relaunching his football career with FC Lorient in the French Ligue 1 having been out of action for almost two years.
Like Mendy, Mahachi lost his job and potential earnings during the course of the court processes.
He told the media in November last year that he lost everything.
"On Friday November 25, after seven months I was acquitted on two very serious criminal allegations of attempted murder and child abuse. During these seven months, I saw my whole world turn upside down. I was dismissed from my club (SuperSport United) with immediate effect and no income, I was vilified by a nation that I once was the football darling of and my fate was sealed through social media without a trial. During these seven months I lost everything I lived for. Seven months of being shunned even by those I played alongside, seven months of death threats, seven months of depression, the list can go on," Mahachi said.
The 29-year old Mahachi, who played for the Zimbabwe national team at the last Africa Cup of Nations finals in Cameroon, has acknowledged that he is already feeling the pressure on his new team.
Ghana Soccernet reports that the former Sundowns and Orlando Pirates player signed a one-year deal with Medeama and he will be hoping to get back to his best and ink a better deal.
Mahachi is aware that a lot is expected of the Ghanaian champions and he wants to help his side achieve its set targets.
"As you know the pressure is too high because the team won the league last season so for now we need to maintain that," he told Ghana Soccernet.
"As new players, we need to work hard and follow what they did last year. In everything there is competition, and as a player, you need to work hard for your place to play."
Medeama will take on Remo Stars of Nigeria in the first round of the Caf Champions league and Mahachi is confident that they will be able to pull through to the next stage.
Related Topics