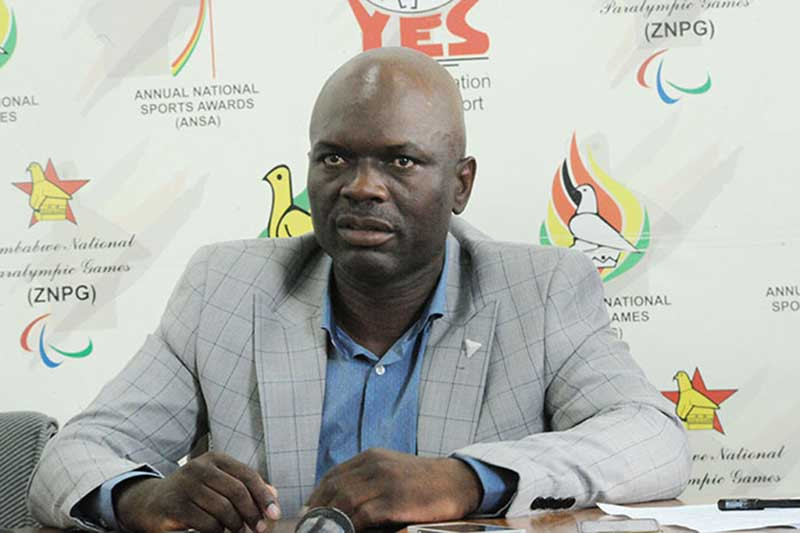 A MEMBER of the suspended Zifa board has said they will not offer any apology for the chaos obtaining in the country's football landscape, before ripping into Sports and Recreation Commission (SRC) chairman Gerald Mlotshwa whom he accused of being a habitual liar.
Mlotshwa last week demanded that the recalled Zifa executive committee fronted by Felton Kamambo and the suspended general secretary Joseph Mamutse offer an apology to Zimbabwe for failing to formally advise Fifa that they no longer hold office.
The SRC honcho said the apology will not only be "just a patriotic thing to do," for Kamambo and his crew, but could also lead to Fifa lifting their suspension on Zimbabwe from international football.
"It is mind-boggling that a whole lawyer and chairperson of SRC would go into public and expose himself for being an outright liar, or someone who is totally ignorant of football rules as well as the country's laws," said one of the suspended board members who requested anonymity.
"And that coming from someone who calls himself a lawyer is very worrying. This issue of saying Kamambo and the suspended board members owe an apology to the nation, and even accusing us of being anti-Zimbabwe is very disturbing. For starters, Mlotshwa must know that he is not Zimbabwe, but just an individual who is hell bent to destroy what is left of our football. Nothing else.
"He is on record saying football is not yet back in Zimbabwe because of the SRC'S choice. He said we will go back to Fifa when we are ready and Fifa will be ready to embrace us. So he shouldn't blame Kamambo for organised football not being played in Zimbabwe. He claims to have the keys to bring back football. We don't have the keys so he must just leave us alone, and in peace. Is it not surprising that 15 months after our suspension, someone is still talking about us as if we still matter. Is this his own admission that we are still an important part of the equation to bring back football? So there is not going to be an apology offered by our grouping because we owe no one any.
"If anything, he (Mlotshwa) is the one who must offer an apology to the players whose careers have been affected, to the administrators whose careers have been put on hold, referees and coaches, fans and even other stakeholders like businesses who ordinarily rely on organised football activities for survival."
Mlotshwa, who claims to be in talking terms with Fifa, said the SRC was ready to jointly approach Fifa once Zifa finishes deliberating on the recommendations of the restructuring committee, which was set up by the sports regulator against advice from the world football governing body.
The suspended member challenged him to provide evidence to the nation that he is talking with Fifa.
He insisted that the only way Zimbabwe would be readmitted back into the Fifa family is when the SRC adhered to Fifa directives.
Fifa gave a list of six conditions the country must follow to be reinstated, which include the unconditional reconstitution of the Kamambo's board which was dissolved by the SRC before their mandate was later revoked by the Zifa congress at an extraordinary general meeting.
The EGM was, however, ruled to be illegal by Fifa which has since refused to endorse its outcomes.
Fifa also instructed the SRC to abolish the restructuring committee as well as withdraw its court case against the Zifa leadership who are facing fraud charges, for illegally using Zifa letterheads after they were suspended.
"It's so wrong for the SRC to keep on referring to the revocation. Those who sat and partook in that process knew that they were violating a Fifa directive and it's up to Fifa in the fullness of time to decide how they would deal with such people who violated its directive.
"But you can't expect Kamambo to go and tell Fifa to say 'that meeting which you said is illegal went on to revoke me therefore I'm no longer a president of Zifa. In any event Mlotshwa is on record saying he is in talking terms with Fifa, and they are in agreement that Kamambo was legally revoked.
"He said he is just readying for Zifa to look at the restructuring committee report then they come up with the roadmap that they will jointly present to Fifa who are said to be waiting. If Fifa are genuinely agreeable to that arrangement why does Mlotshwa want us to go and tell Fifa that we are no longer there? So what does that tell us, it tells us that Mlotshwa is blowing hot and cold because he knows he is lying through his teeth to the nation of Zimbabwe. He must be made to account for his lies. The letter, written by Fifa on conditions for reinstatement, has not been withdrawn or revised, but Mlotshwa is talking about his own imaginary, non-existing position of Fifa. He has all of a sudden become a spokesperson of Fifa but at the same time he is crying for Kamambo to apologize as well as go and convince Fifa. It's not Kamambo's job to do that.
"There is nowhere Fifa has said we have now accepted the restructuring committee and that they can give Zifa their report to implement. In the eyes of Fifa, that committee never existed so they won't accept any piece of paper or recommendations from an entity that has never existed."
Players, fans, coaches and other football stakeholders have been united in clamouring for the SRC to reinstate Kamambo so that the country can return to international football.
But Mlotshwa says the SRC's hands are tied and can no longer withdraw their fraud case against Kamambo or legally reinstate him since he was revoked by the Zifa congress.
"The real reason Kamambo is not in office today is because of the SRC suspension. They must lift the suspension and let football deal with its issues. If indeed Fifa will then say SRC has complied but now this is the doing of football people then we take it up from there. But for now the suspension by SRC subsists. He must not hoodwink people and lie that they cannot withdraw the case or lift the suspension. He can. Taking people for fools like that and thinking he is the only person that is clever in the whole wide nation is very dangerous. People are educated enough to understand everything happening. The guy always contradicts himself, and is already sinking in his lies. Each day he lies, he continues to sink deep. This guy is not consistent."
The board member predicted that it would take at least 10 years for the country's football to recover from the effects of the Fifa ban.
Related Topics