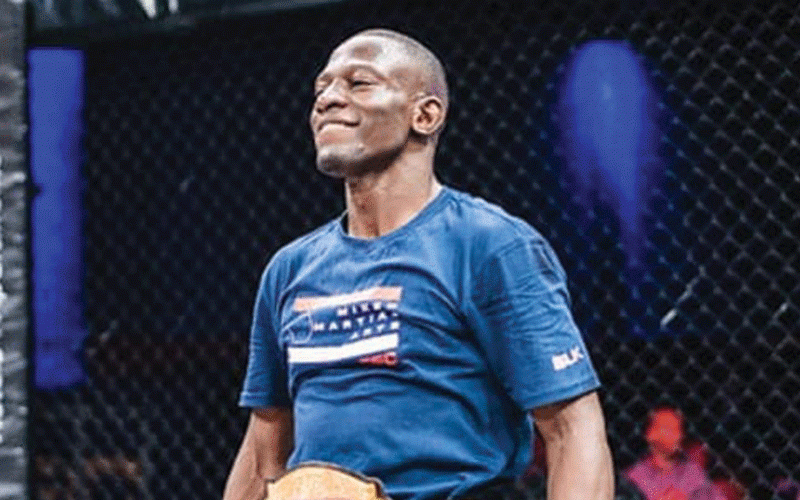 SOUTH Africa-based Zimbabwean Mixed Martial Arts Extreme Fighting Championship (EFC) World bantamweight champion Nicholas 'Gokwe Boy' Hwende says he urgently needs to upgrade to the tough Ultimate Fighting Championship (UFC) since there is no worthy opponent in his EFC class.
Hwende successfully defended his title against former Bantamweight and Flyweight champion Nkazimulo 'Zulu Boy' Zulu in the main event of the EFC 100.
The 26-year-old fighter followed in the footsteps of Themba Gorimbo and Sylvester Chipfumbu, Zimbabweans who have won EFC titles in recent years, after beating Brazilian Gian Souza in Johannesburg South Africa back in August.
In his title defence, Hwende damaged his eye in the first round but managed to soldier on and win by unanimous decision.
"I knew that I was going to defend this title with everything that I have so I feel happy and good, especially considering that I won against a legend of the game. It was yet another step towards achieving my goals," Hwende told The Sports Hub in an exclusive interview from his South Africa base.
Hwende hopes that he will have a chance to fight in the Dana White's Contender Series, an American mixed martial arts promotion that allows up and coming fighters the chance to showcase their talents in the hope that one day they may compete in the UFC next year.
"I want to make sure that next year I am on the Contender Series for UFC if possible. If I don't get that opportunity I will continue to defend my title. But the goal now, like I said, is I want to go to the UFC. I want to fight overseas because in my EFC division there is no worthy opponent that I can say I need to fight first so that I can go to the next level. In other words I am ready for a bigger stage," said the Gokwe-born fighter.
"All the opponents in EFC cannot beat me because I am on a level which is far above them. If you look at an opponent like 'Zulu', it was not even difficult to beat him.
"I managed to beat him with a single eye. He poked my eye in the first round and I couldn't see properly but still I managed to smash him. He won his titles when I was not there and now that I am here I showed him that I am the real champion.
"I was not afraid of him, I just went in there knowing that I can smash him like any other opponent. In fact he was lucky that I had only one eye. If I had both my eyes working he would not have gone past the second round.
"The injury was really bad because he punched the eye and damaged it so it was quite severe. Up to now the eye is still red and we are still trying to fix it," Hwende said.
Hwende showed great resilience and craftsmanship as he expertly escaped a mounted guillotine from Zulu just as the hooter went off to signal the end of the fight in the fifth round.
The Zimbabwean's MMA journey began when he was a young boy growing up in the rural areas of Gokwe after watching combat movies before he started training in Karate (Kyokushin) and kickboxing.
Related Topics