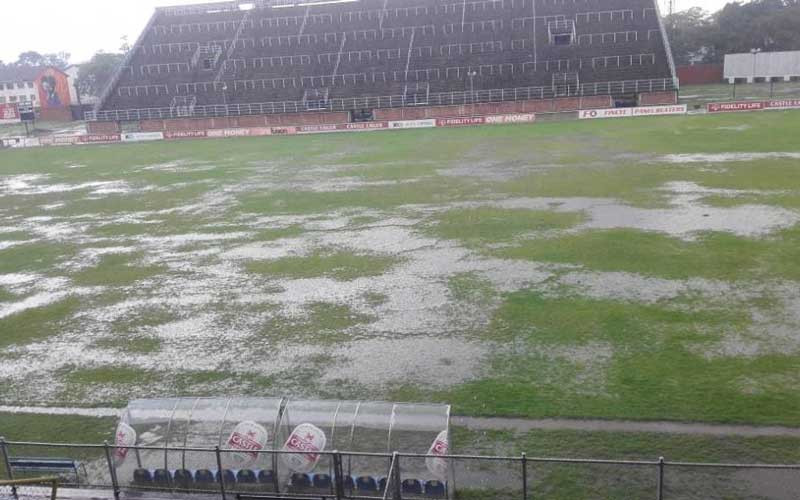 Harare City Council has made a surprise u-turn on its decision to cut ties with Sakunda Holdings on the project to renovate Rufaro Stadium.
This comes after the energy giant on Tuesday announced that it was withdrawing its commitment to renovate the Mbare-based facility citing lack of commitment from the City Fathers.
The two parties had earlier this year agreed on a deal that would have seen Sakunda renovating Rufaro Stadium to world class status under a long-term lease agreement on behalf of Dynamos Football Club.
Mafume immediately responded, and appeared to give Sakunda a middle finger when he said they are also ready to pull out, accusing Sakunda of seeking "a parasitic deal."
But it appears Mafume has succumbed to public pressure, and told a press conference yesterday that the council was ready to engage with Sakunda Holdings to revive the deal.
"We are still open to negotiate with them," Mafume said.
"There is nothing to drag. They (Sakunda) were supposed to come to a presentation to present their feasibility studies in terms of the agreement and if we had dragged any feet, they would have sent a notice or even written to us or sought an appointment with the Mayor as the head of the institution. There is no record of such a letter or anything of that sort that has happened. What we have is that they are talking about rumours in the letter but I don't know what that means. What we have insisted and reiterated is that we need to enter into mutually beneficial agreements as a city with our business people so that we don't end up signing things we do not understand or hand over assets of the public. We have not dragged any feet nor said we do not want to partner them."
In the proposal, Sakunda Holding expressed its vision to drive community development in Mbare by establishing a Fifa-accredited stadium for use by Dynamos and other local clubs.
The rehabilitation of Belgravia Sports Club and its facilities for use by Dynamos for training purposes was also part of the deal.
But Sakunda have cited lack of co-operation from the City Fathers. It also accused the council of making unfounded allegations that the energy giant wanted to purchase the facility.
"Following our numerous requests to present to your office our final feasibility study report and proposed designs for the refurbishment of Rufaro Stadium, we write to express our gravest misgivings on the unfortunate events and communications emanating from your office," Sakunda wrote in a letter signed by chief operations officer Mberikwazvo Chitambo to Mafume.
"We are shocked and disturbed by the untruthful and malicious allegations that Sakunda intends to purchase Rufaro Stadium, which is a public asset. Nothing could be further from the truth, and we believe you know that."
Chitambo said the allegations were unfounded and a coordinated attempt to derail the agreement.
"We wish to place it on record that Sakunda did not have any commercial interest in this project suffice to say that our participation in the same was entirely philanthropic, for the public good. Consequently, we would like to hereby notify you of our immediate withdrawal from this partnership," Chitambo said.
"Given the toxicity we have now seen in Council's attitude, and a lack of political will to implement the project on the part of Council, Sakunda hereby withdraws its participation from the project. Notwithstanding all project designs and plans will be donated to Council in the public interest."
A project management team made up of Sakunda and City of Harare officials toured South Africa earlier in the year to visit stadiums for research purposes as well as benchmarking of a stadium design.
Rufaro Stadium last hosted league matches during the 2019 season before it was red-flagged by the Zifa First Instance Board in 2020.
The stadium has since become an eyesore after renovations by the city council stalled and its collapse has created problems for the seven Harare-based teams in the Castle Lager Premier Soccer League as there is only one approved stadium in the capital, the National Sports Stadium.
Sakunda Holdings is the major sponsor for two of the country's biggest clubs — Dynamos and Highlanders.
Follow Henry on Twitter @henrymhara
Related Topics