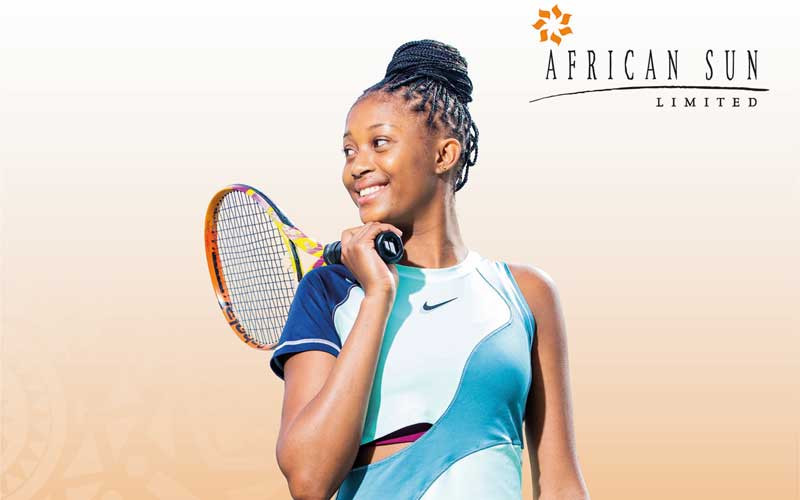 HOTEL group African Sun Limited (ASL) have committed to sponsor 16-year-old multi-talented rising tennis star Julie Tungamirai whom they will sponsor as she seeks to make a mark in the game.
Tungamirai has since started to receive support from African Sun, who are funding all her tennis needs including equipment, kit, flights, accommodation and meals for international tournaments until the end of the year.
The Hellenic Academy student has also represented the country in athletics and swimming where she holds two national records.
She has 36 records in athletics for both sprints and long distance running.
The company said that they picked Tungamirai for this initiative because of the talent that she possesses as well as a deliberate drive towards gender equality and empowering women and girls.
In a statement the company also pledged to identify other young and up coming athletics whom they will support in their sporting endeavours.
"The sponsorship towards Julie Tungamirai is in line with the Gender Equality SDG, which aims to achieve gender equality and empower women and girls which is part of ASL's Corporate Social Responsibility mandate to give back to the community," the statement reads.
"The sponsorship includes tennis equipment, kit, attire, flights, accommodation and meals for international tournaments. ASL identified Julie as a talented multi-discipline athlete who has represented the nation well at international games for tennis, swimming and athletics since the age of 12. With the right support, she has great potential to be an international champion and African Sun is honoured to help turn that dream into a reality, putting Zimbabwe on the international sports championship map as well. The company will continue to identify talented children in need of support to further their careers across multiple sports disciplines in the drive towards gender equality and equal opportunities for all."
Tungamirai is pleased to be a recipient of such support from the company she is confident that it will help her improve her rankings as she takes part in the International Tennis Federation (ITF) Circuit.
"African Sun have come on board to assist with my journey in tennis. The assistance will come a long way to assist me to go to Kenya and Turkey for the ITFs. These ITFs will push me to drop my ranking and gain more points," the elated Tungamirai said.
"I see myself as a well rounded athlete in the sense that I not only take part in tennis but other multiple sports. I hold 36 records in athletics and cross country and I also have two national records in swimming. I have been selected to represent Zimbabwe multiple times in tennis and swimming."
Tungamirai is currently preparing for the African Youth Games where she hopes to bring home some medals.
She recently played at an ITF Circuit tournament in Mauritius where she was funded by African Sun.
Related Topics