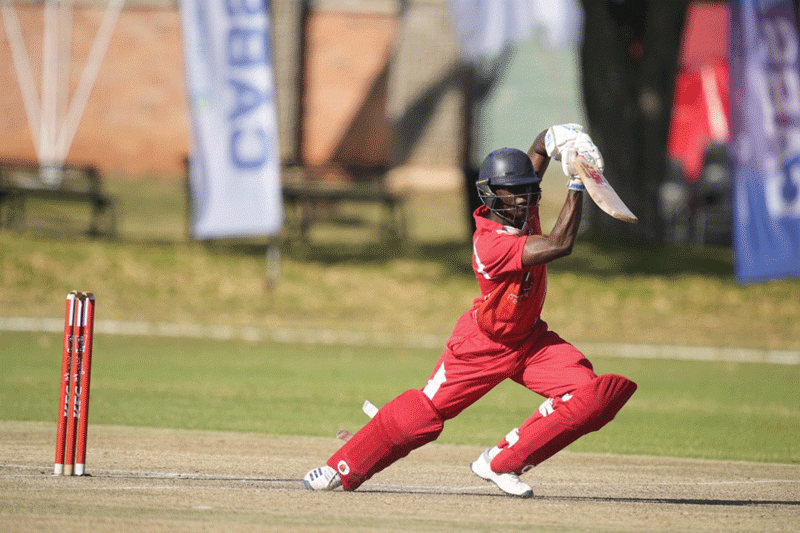 CRICKET has given us many poster boys in the past from West Indies pace bowlers of the 80s to Brian Lara and Sachin Tendulkar who all became legends of the game and found immortality.
Every epoch has seen its new global icon emerge to inspire the next generation who want to fashion their game and even approach in life after them.
During the 2003 ICC Cricket World Cup which Zimbabwe co-hosted with South Africa and Kenya, the pint-sized wicketkeeper-batsman, Tatenda Taibu, was splashed around town on various billboards signalling his standing in the game as one of the success stories of Zimbabwe Cricket development programme.
Taibu inspired many black people to take up the game to a point that even those in Zimbabwe that did not understand or know anything about cricket, knew who Taibu was.
However, for 17-year-old Zimbabwe rising star, Tapfuma Mukwazhi, a wicketkeeper-batsman he found his inspiration across the oceans as he joined a billion people in India who found inspiration from Mahendra Singh Dhoni who earned the nickname "Captain Cool" because of his calm attitude.
His cool and calm attitude helped India win many matches and in some close matches, he has never lost his coolness whether his team was winning or not.
Captain Dhoni won the T20 World Cup, Champions Trophy and the 50 Overs World Cup for India and was at one point the most successful Test captain for his country.
The Indian great is an iconic cricketer whose popularity can only be surpassed by Tendulkar and Virat Kohli
"I used to look up to MS Dhoni who used to come and bat at five or six. His role was that of a finisher. I found myself doing that quite a lot. I didn't grow up watching much of Kumar Sangakarra or Brad Hadin," said Mukwazhi.
"I fashion my game around Dhoni. I like the name "Captain Cool", I have watched videos where he laughs on the field, cracks jokes and enjoys good banter. In the toughest of situations, he always maintained his cool. He always looks calm and collected.
"I also like how MS changes the fieldset, he senses something and brings in a catcher in a certain position and before you know it the batsman falls for his trap."
It's easy to see why Mukwazhi was drawn towards Dhoni because the former Indian skipper's temperament has become part of cricket folklore.
"His keeping was outstanding, he was always a step ahead as he anticipated what the batsman was going to do, and he stopped the ball with his pads after a batter played the reverse sweep. I also enjoyed his no-look runouts, how he still remained calm was a joy to watch," he said.
"I remember one commentator saying when you need 15 runs off six balls, the pressure is not on Dhoni but on the bowler. That's a reputation I would want to earn as a cricketer, someone who guides the team until the end and be that someone who makes the right decision in tight situations."
Talking to Mukwazhi you get a sense of a young man who knows what he wants and understands what needs to be done to get it.
His confidence is not bordered on arrogance but he leaves you with an impression of someone who hates losing and wants everyone around him to step up in order to reach their desired goal which is to win.
Mukwazhi a Lower Six pupil at St George's College in the capital made his eagerly awaited debut at the just-ended CABS St George's Smashing T20 Cricket Festival and he was one of the highest runs scorers.
Despite St George's being the defending champions, they failed to make a mark this year and if Mukwazhi had converted the few starts he had and got enough support from his teammates.
"It was a good tournament for me personally considering that it was my first CABS St George's Smashing T20 tournament. If it wasn't for Covid-19, I could have played Smashing last year or the year before," added Mukwazhi.
"It was great to come and bat but I didn't get much support and I ended up throwing my wicket away although you are told to stay calm and all but pressure does get to you."
Mukwazhi's idol, Dhoni could accumulate, rebuild and still able to catch up unleashing big sixes as he finished the innings for his country.
He is the first to admit that he should have carried his team and played a Dhoni-like innings but he is still young and learning.
"We were chasing big scores and we would find ourselves four down. I made a couple of silly mistakes; I think I kept making the same mistakes and I got myself out as opposed to the opposition getting me out. I kept breaking my wrist," he said.
"I had a good match against St Andrew's, when I was on 35 I got out to a bad ball that I could have smashed anywhere but I bottom edged it to my stumps.
"Again chasing 157, we found ourselves seven down for 76. I was the man in form and I could have scored more runs for the team. I had the confidence to use my feet against the spinners and it gave me confidence because I was getting the runs but just failed to convert because of the lack of support from my teammates."
Mukwazhi loves cricket, wants to play cricket at the highest level and everything he wants to do is informed by cricket.
"I want to study computer science or something related to Information Communication Technology but I have to go to a University in Australia or England that is serious about cricket because cricket is my first career of choice and will use my degree after I am done playing."
Just like his idol Dhoni who first made his mark as an ODI batter, Mukwazhi currently prefers this format because it gives him time to play himself when batting at number four.
With talk already about Mukwazhi being the captain of St George's next year, it will be great to see how he goes about his duties and what added leadership responsibility will do to him.
Will he remain calm, cool and collected under pressure like his idol or pressure will get the better of him?
Whatever happens, the determination and hunger to succeed that young Mukwazhi has will put him in good stead in his goal to one day becoming Zimbabwe's Captain Cool.
Related Topics