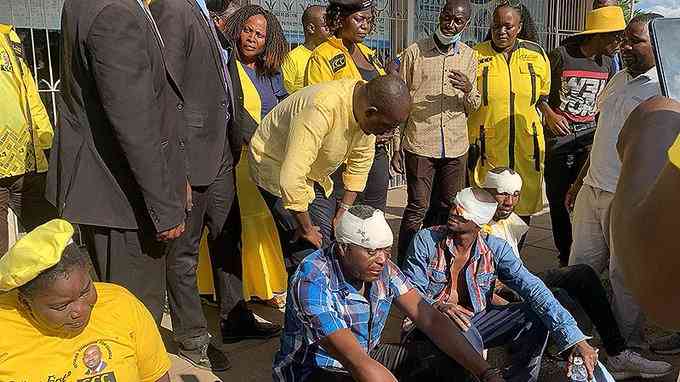 THE wait is finally over!
On Wednesday, Zimbabwe will hold crucial general elections. Zanu PF First Secretary and President Emmerson Mnangagwa goes head to head with Citizens Coalition for Change (CCC)'s Nelson Chamisa.
While Mnangagwa is seeking a second five-year term until 2028, Chamisa is making a second attempt at the presidency. Chamisa, also a lawyer, and pastor, narrowly lost to the incumbent in 2018.
As the country gears for the make-or-break elections, it is crucial that contesting political parties heed the call for a violence-free voting and post-election process.
The nation's prosperity and stability hinges on an environment that fosters a free, fair, and credible election.
Scars from the aftermath of the 2018 elections serve as a stark reminder of the consequences of unchecked violence and unrest.
It is, therefore, essential that political parties commit to acting responsibly throughout the voting, vote-counting and after the announcement of results.
While opposition parties, with CCC leading the pack, have genuine concerns about the voters' roll, ballots, polling stations and uneven playing field, they must focus on other critical aspects of the electoral process, which have a huge potential to influence results come August 23.
Taking pointers from the 2018 election debacle, one of the important issues that the opposition should be dealing with is polling agents.
They must ensure that they deploy agents to all the 12 370 polling stations countrywide.
CCC needs to assembly a team of more than 37 000 agents, with administrative and technical capabilities, as well as basic knowledge on electoral rules and regulations, to monitor the voting process.
The agents — one inside the polling station and other two outside — are there to monitor the voting processes and verify ballots, paying close attention to serial numbers on ballot boxes and papers before and after voting.
They are there also to guard ballot boxes overnight and verify the vote count before signing the polling station return form (V.11), which is a declaration that it is a correct statement of all votes cast.
They also receive original versions of the form, one of which is affixed outside the polling station so that it is visible to the public to inspect and record its content.
In order to avoid the divisiveness and mistrust that followed the 2018 elections, which resulted in a fierce Constitutional Court battle, all parties must actively engage in promoting dialogue, tolerance, and respect for the process.
A credible and accepted election result is of paramount importance for Zimbabwe's future. It will bolster international confidence in the country's democratic processes and attract much-needed investment for economic recovery.
The international community, as well as Zimbabweans, are closely watching this process unfold.
Let us all unite in urging political parties to rise above differences and prioritise the greater good, allowing Zimbabwe to embrace a future built upon the foundation of peace, credibility, and acceptance.
As a nation, we need to avoid the 2018 elections aftermath when demonstrations erupted on the streets of Harare, just a day after voting.
Soldiers opened fire on unarmed citizens, killing six Zimbabweans and wounding several others.
The August 1 2018 events cast a shadow over Zimbabwe's potential progress and undermined its standing on the global stage.
So I cannot overstate the importance of a credible and accepted election result.
It is also important for political parties and ordinary citizens to choose the path of responsible conduct.
Political leaders must not use provocative language. They must promote peace and tolerance.
History in other countries has shown that when the outcome of an election is widely accepted, nations can focus on addressing pressing challenges such as poverty, healthcare, education, and infrastructure.
As Zimbabweans march toward August 23, my call is for a violence-free, fair, and credible election.
The elections represent a critical turning point from political violence, instability and perpetual bickering.
The responsibility lies with all of us — political leaders, citizens, and institutions to pen a narrative of unity, progress, and resilience.
As a united nation, we can emerge from these elections stronger, more stable, and ready to embrace the opportunities that lie ahead.
I want to wish all political candidates best of luck on Wednesday.
Related Topics