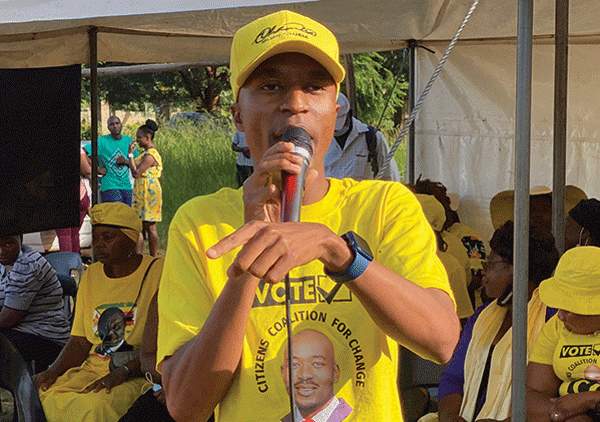 NELSON Chamisa's Citizens Coalition for Change (CCC) says it will promptly, albeit temporarily, dump the Zimbabwe dollar for the United States dollar if elected as the new government.
Speaking during a parties' manifesto discussion on X, formerly Twitter ,yesterday, CCC deputy spokesperson Gift Siziba said Chamisa's government would disband the foreign currency auction system.
"It's a big issue around monetary reforms. We propose that the first thing we must do if we assume office is to abandon the bond note and use US dollar in the interim and bring it after addressing the economic fundamentals," he said.
"We are also proposing an abandonment of the auction system because Zimbabwe loses almost two billion dollars on the auction system, which has been used to loot and siphon resources."
Siziba said the CCC government would also deal with illicit financial flows and local and international debts.
"We also have a programme to make sure that we introduce and reinforce the Zimbabwean economic interests domestically because part of the country's challenge has been the siphoning of resources through illicit financial flows. Theft and corruption are a big issue," he said.
He said his party would also decisively deal with the domestic and external debts.
"Zimbabweans have the right to know how much money was borrowed and where it was borrowed. The other critical element is also debt settlement issues. We have come up with a progressive team of people who would lead debt negotiation. We must be able to make sure that we deal with the external debt," he said.
Economist Gift Mugano told NewsDay that the CCC will be respecting the market which has already "dumped" the local currency.
"The CCC is respecting the market because the market has already dumped the Zimbabwe dollar. If you look at the latest figures from the central bank on transactions, more than 90% is now US dollar," Mugano said.
"So there is no more Zimbabwe dollar to talk about. It has already been kicked out, but it needs a government which recognises that. CCC is coming in to recognise what the market has said and I agree with them.
"In terms of closing illicit financial flows I also agree. Remember we are losing US$1,8 billion to illicit flows … If that money is accounted for we will do well."
The Twitter discussion hosted by the Accountability Lab Zimbabwe was themed #MaPromiseManyama. It was meant to explore political parties' manifestos ahead of tomorrow's polls.
Follow us on Twitter @NewsDayZimbabwe
Related Topics