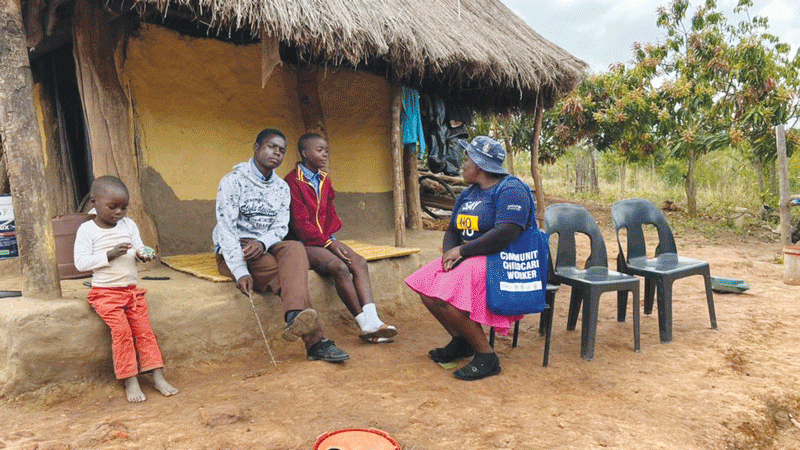 TAWANDA Manono (19) blankly gazes across Chitora River.
It has been more than three years since he watched in horror as his father was swept away by the raging river when Cyclone Idai struck Zimbabwe's Eastern Highlands in Chimanimani on March 16, 2019.
For Manono, the past three years since that fateful afternoon have been hell, living 50 metres away from a river that swallowed his father.
Every day, he fetches water from it, bathes in it and crosses the same river to school. The memories never fade away.
"My father crossed the river to check if he could find transport from Tamandai to Chipinge. On our way back, we crossed with two of our relatives. My father remained behind and when he tried to cross, the level of the water in the river had increased and he was swept away while I watched," Manono says with tears flooding his eyes.
"Whenever I think about the incident, my heart beats fast and I become scared because I don't know if it is going to happen again. The incident is still fresh in my mind and I can recall it clearly. It affected me because he was the one who looked after us, and it still hurts."
Cyclone Idai killed 340 people and displaced another 270 000, with hundreds more missing in Chimanimani and Chipinge districts.
Government has since declared the many people still missing dead.
The cyclone was one of the worst tropical storms on record to hit Africa and the southern African region.
The storm shot from the Indian Ocean with such devastating force that it brought unprecedented heavy rains and strong winds in Zimbabwe's Chimanimani and Chipinge districts, causing flash floods that burst river banks, sweeping away both human and animal life as well as properties and livelihoods.
Making landfall at a blistering speed of 195km per hour on March 15 on the Mozambican coast at Beira, the cyclone tore through Mozambique, Zimbabwe and Malawi, killing more than 1 500 people and leaving hundreds more missing.
Tawanda, who is sitting for his Ordinary Levels this year and still vividly in pain, says life has never been the same and they have been forced to do part-time jobs at macadamia growing farms and other menial jobs to get money for food and education for him and his other two sisters.
Explaining his ordeal, he says since his father died, life has never been easy because he no longer goes to school every day.
He often bunks school to do odd jobs to help his mother supplement for the family upkeep.
"Sometimes we do part-time jobs to pay for extra school lessons, but sometimes we help our mother who is a farmer. That's how we survive. This has affected me mentally because my father died when I was in Form 1 and I am now the father figure at a tender age," he says.
Tawanda's sister Tariro says it is still hard to accept their family's predicament.
She says she hoped her father would make it out of the raging river, but unfortunately, he was found dead downstream a day after he was swept away.
Tawanda's mother, Sinikiwe Ingana, says: "My children were seriously affected because I cannot afford to pay for their extra school lessons, so they are always at home and it's destroying their future. Part-time jobs are difficult to find and the amount paid is also too little. My husband worked for only four years and life was getting better, but unfortunately, he died an untimely death," she says.
The Manono family mirrors the struggles of many families in Chipinge and Chimanimani affected by Cyclone Idai, who are finding it difficult to gather the pieces.
The Public Service, Labour and Social Welfare ministry, the United Nations Children's Fund (Unicef) and United Nations have increased mental health awareness in Manicaland to help survivors to recover psychologically.
Farm Orphan Support Trust of Zimbabwe social worker Rejoice Gwayindepi says Cyclone Idai victims were affected psychologically and in terms of their welfare since they lost breadwinners, resulting in them facing many challenges in their everyday life.
She says they are closely working with government, Unicef and other organisations to form psycho support groups that assist children to share their challenges, while helping them recover.
Related Topics