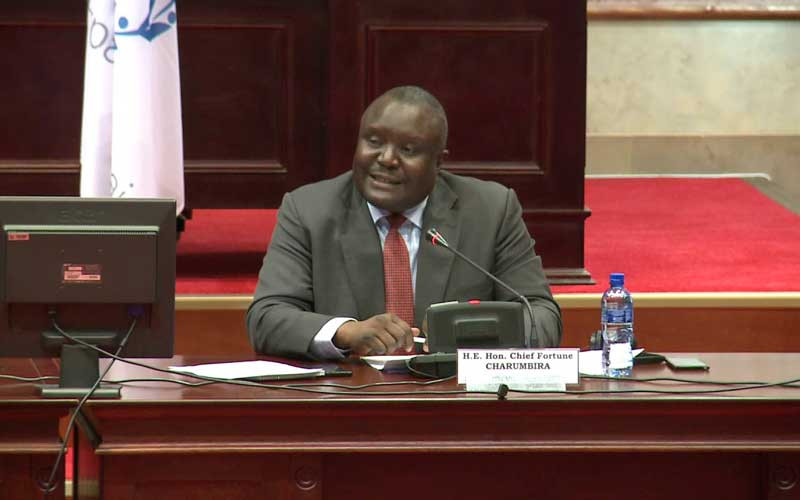 ELECTORAL watchdogs have expressed concern over traditional leaders that continue to dabble in partisan politics, saying this will impact on the secrecy and integrity of votes ahead of the 2023 polls.
This comes as social media is awash with videos of chiefs pledging their allegiance to the ruling Zanu PF party.
Traditional leaders such as headmen are accused of force-marching their subjects to vote for the ruling Zanu PF party during elections. However, the country's Constitution prohibits them from being members of any political party or participating in partisan politics.
Last year, Chiefs Council of Zimbabwe president Fortune Charumbira said: "Traditional leaders are owners of Zanu PF and rule everywhere and that's what defines their relationship with Zanu PF. We are one people… we will never leave Zanu PF."
A recent report by the Election Resource Centre (ERC) on its election credibility indicator, accused Charumbira of defying a High Court order that compelled him to withdraw his comments.
"Chief Charumbira continues to defy a 2018 High Court order that compelled him to withdraw partisan comments made in support of Zanu PF as they were deemed unconstitutional.
"The electoral environment has seen a worsening of the conduct of traditional leaders — chiefs and headmen — actively mobilising citizens to vote on election day in rural areas potentially impacting the secrecy and integrity of the vote," the report read.
ERC predicted that the forthcoming elections will be disastrous if this issue is not addressed.
Zimbabwe Election Advocacy Trust (Zeat) executive director Ignatious Sadziwa said political parties should desist from politicising traditional leaders.
"It's unfortunate that some traditional leaders find comfort in violating the Constitution with impunity. Traditional chiefs by status are supposed to be the custodians and doyens of the Constitution; in fact they must protect their subjects from harm. Rogue elements like chief Charumbira must not speak on behalf of traditional leaders of good standing as this practice taints upright traditional leaders. The law must punish such malcontents in society who abuse their authority and tarnish the image of the country."
Repeated efforts to get a comment from Chief Charumbira were fruitless. But civic society group, Heal Zimbabwe Trust (HZT) said it hoped that Chief Charumbira would respect Zimbabwe's Constitution and stop dabbling in partisan politics as a traditional leader.
"We hope and remind you to comply with High Court order HC1718/18 back home, which ordered you to retract partisan remarks contravening section 281(2b) of the Constitution," the HZT statement read.
Follow us on Twitter @NewsDayZimbabwe
Related Topics