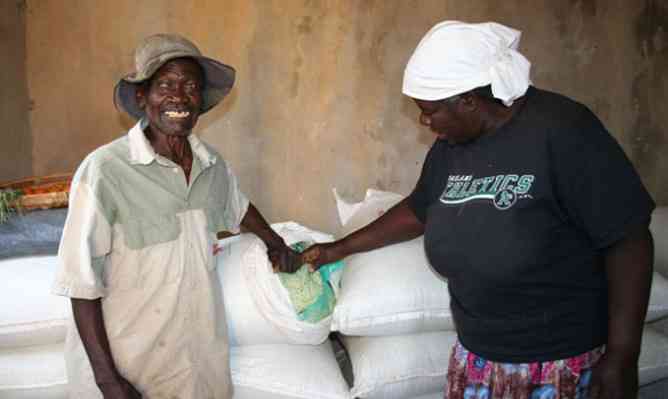 SHAMVA — Last season, Mollene Kachambwa lost 20% of the five tonnes of maize the family harvested to weevils and fungi.
This season, weevils and fungi have to find a new host. Kachambwa, who is from Kachambwa village located 75km north-east of Harare, has stored her maize harvest in an airtight galvanised metal silo. This is a shift from using traditional granaries or polythene sacks, which are not insect and fungi proof.
Certain fungi produce a chemical toxin known as aflatoxins, which can infest maize grain both in the field and subsequently in storage. Tests in Zimbabwe have found significant levels of contamination in maize crops, and the toxin can also infect other crops, notably legumes such as groundnuts.
Aflatoxin exposure — a growing food and health risk in Africa — has been linked to weakened immunity and cancer risk. Young children are at risk of stunting, and even babies are susceptible to aflatoxins carried in their mothers' milk.
Farmers like Kachambwa spend on average over $50 each season on pesticides to protect their grain from weevil damage, but they have little protection against contamination from fungi.
Farmers like Kachambwa spend on average over $50 each season on pesticides to protect their grain from weevil damage, but they have little protection against contamination from fungi.
Given the high farming input costs in Zimbabwe's struggling economy, farmers worry about storage and safety of their heavy duty bins . The prospect of pesticide-free and hassle-free grain storage methods at affordable cost is irresistible.
"I am confident my maize is safe in the metal bin. I have been taught to dry the maize properly before storing it. I put a burning candle to take out any air in the bin before I seal it," Kachambwa says.
"I have also learnt how to test for high moisture content in my grain before I store it in the bin."
Researchers in Zimbabwe are investigating aflatoxin exposure among maize farmers and ways to reduce it under a 30-month project involving 12 wards in the Shamva and Makoni districts.
The project is being implemented by Action Contre la Faim and the Institute of Food, Nutrition and Family Sciences at the University of Zimbabwe in partnership with the government.
It is investigating the effectiveness of airtight metal silos and thick plastic "super bags" in reducing aflatoxin contamination in maize grain and assessing the exposure of women and children to the deadly toxin. Levels of aflatoxins are being determined in legumes (bambara nuts, ground nuts, cowpeas and sugar beans) from farmers.
"If aflatoxin levels are high in maize produced by farmers in Zimbabwe, this could pose a risk to human health and also in the trading of maize, a staple crop in the country," principal investigator and project coordinator at Action Contre la Faim, Charlene Ambali, said.
"This study is to understand the extent of the problem."
Farmer Alice Mhonda from Mushowani village, who last season harvested two tonnes of maize, has stored it in hermetic bags neatly stacked on log frames in a room outside her kitchen.
"I will open the bags in February to see if this method has worked," Mhonda said.
"I am happy I have not had to buy any pesticides unlike in the last season when I used seven tins of pesticide but still lost five bags of maize to weevils and some of it went mouldy."
Farming households who consume their own maize for more than six months each year, including breast feeding and pregnant women and children below five years were selected to take part in the study.
Mothers and their children are giving biological samples (blood, urine and breast milk) in addition to grain samples being taken for laboratory analysis on a regular basis. Baseline laboratory results on maize and legumes as well as on biological samples are expected by end of November 2015 to determine if farmers have been consuming aflatoxin contaminated grain.
"Communities were excited about being part of research that would contribute to reducing post-harvest losses," said Loveness Nyanga, the project principal investigator, researcher and senior lecturer with the University of Zimbabwe.
"They were concerned about their continuous use of pesticides and fertilisers as they were worried that this was also a health hazard. They welcomed the air tight technology as there was no need to use pesticides in their harvested grain."
Increasingly high temperatures in Zimbabwe and droughts linked to climate change increase the vulnerability of maize grain and legumes to aflatoxin contamination.
Poor drying and storage methods used by farmers after harvesting also contribute to the exposure to the toxins, said Ozwell Chitono, an agriculture extension worker who serves farmers in three enumeration areas Ward 5 of Shamwa district.
"Farmers had a problem storing the maize, which was affected seriously by the large grain borer, and the hermetic bags and the metal silos are effective methods according to the farmers, as most of them were not aware of the aflatoxins and would feed contaminated grain to chickens and goats," Chitono said.
Nutritional biochemist and project coordinator under the University of Zimbabwe, Catherine Chidewe, said aflatoxin contamination is a big issue that is not being taken seriously in Zimbabwe because of ignorance and limited research.
She said the intervention study will provide evidence that could enhance the national policy on aflatoxin testing in the country and make airtight storage, a model for post-harvest management in the country.
Food safety and quality as a result of aflatoxin contamination are a growing concern to improving food and nutrition security and agriculture productivity in Africa in line with the recently agreed Sustainable Development Goals.
According to the Food and Agriculture Organisation of the United Nations, 25% of world food crops are affected by aflatoxin contamination. The US Centers for Disease Control estimates that more than 4,5 billion people in the developing world are exposed to aflatoxins, while research by the International Food Policy Research Institute suggests that an estimated 26 000 Africans south of the Sahara die annually of liver cancer associated with chronic aflatoxin exposure.
"Food quality and safety issues resulting from aflatoxin contamination present a serious obstacle to improving nutrition, enhancing agricultural production and linking smallholder farmers to markets," says a report by the African Agricultural Technology Foundation, which is coordinating the Aflatoxin Control in Maize and Peanuts project.
The project seeks to reduce aflatoxin contamination and improve food production in sub-Saharan Africa.
The metal storage bins, while a welcome novelty in Kachambwa village, have boosted business for tin smith Francis Pokoti, who was trained under the project to make the metal silos.
"I have made more than 100 metal bins of various sizes for the project and for other customers who are trying the bins," said Pokoti who operates a roadside shop at Wadzanai business centre in Shamva.
Related Topics