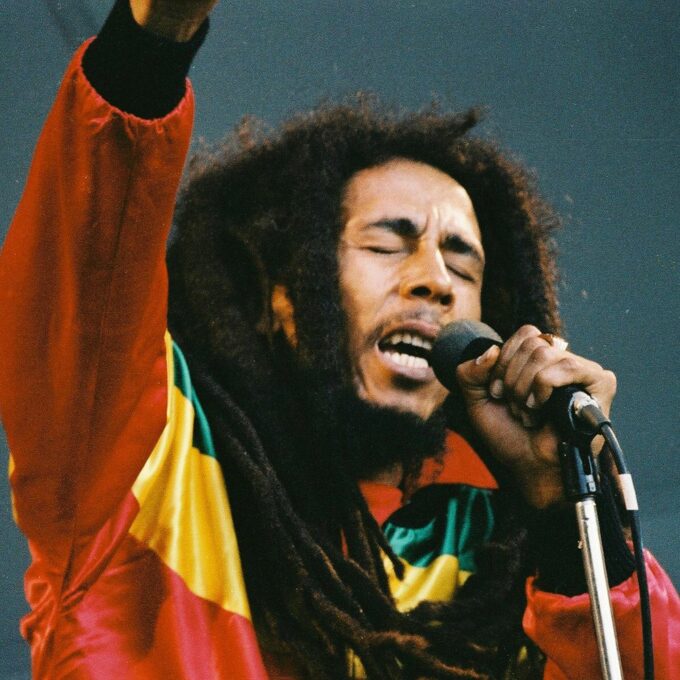 Arwa Haider In the first room of the new Bob Marley One Love Experience at London's Saatchi Gallery, you are immediately hit by the Jamaican reggae megastar's extraordinary recording catalogue with his band, The Wailers.
Along the wall displays, one particular golden record sleeve radiates its own regal presence: the pivotal 10th album Exodus (1977), created while Marley and his bandmates were living a short walk away from this Chelsea venue.
Now in its 45th year, it's a work of powerful transition: arguably confirming Marley's true global status, and continually connecting with new generations of listeners.
The spirit of Exodus is multi-layered; its title track evokes the Old Testament tale of Moses leading his people to safety, and its parallels with Marley's Rastafarian faith.
It also reflects Marley's own flight to London, amid the brutal turbulence of Jamaica's elections, and in the wake of a December 1976 assassination attempt that wounded him and his wife, vocalist Rita Marley.
He would spend more than a year in the UK capital, during which Exodus (and its relatively breezy 1978 follow-up Kaya) were created.
Exodus was named the 20th Century's most important album by Time magazine, which hailed it as "a political and cultural nexus, drawing inspiration from the Third World and then giving voice to it the world over".
In the 21st Century, the term "Third World" should be relegated to history, but this album's power certainly endures.
Exodus songs infuse the One Love Experience, including the uplifting anthem that lends this exhibition its name.
When I visit, Marley's daughter, creative artist and entrepreneur Cedella, is giving the Saatchi Gallery an approving once-over:
"Jonathan (Shank, exhibition designer) is a visionary," she says. "In every room, you get a little bit of Bob — and a bit of mummy (Rita Marley) and the children and grandchildren, as well.
"Beyond its London run, this exhibition is on the move, via Toronto, Vancouver, Los Angeles, Chicago, New York City, Miami, Amsterdam, Seoul, Tel Aviv, Tokyo and Kingston, Jamaica; Marley's reach is planet-wide.
Exodus has been re-issued at various stages, including a 40th-anniversary version mixed by Cedella's brother (and sometime bandmate) Ziggy Marley.
It remains a captivating listen; on vinyl, the album's distinct halves are particularly pronounced: the political and spiritual forces of side A (from the mesmerising groove of opener Natural Mystic to the rousing title track with its "movement of Jah people!" refrain); the romance and optimism of side B (comprising several smash hits, such as Jamming; Waiting In Vain — a rumoured dedication to Marley's girlfriend, Cindy Breakspeare; Three Little Birds and the ubiquitous One Love/People Get Ready, which entwines Marley's songwriting with US progressive soul artist Curtis Mayfield).
In digital form, it transports the listener through relatable emotions: anguish; defiance; ultimately peace and hope.
As Cedella Marley notes: "The message is still relevant. Unfortunately, not everything has changed for the better, and as I grow and my children grow, I say: 'wow'; in the late '70s, Jamaica was in turmoil.
Daddy could have gone anywhere in the world to record, but for some reason, he chose London.
Exodus is not really an angry record; it's really a cry about every kind of situation he has gone through."
Bob Marley was a recognised name by the time of his London exodus; in 1975, he and The Wailers had played a packed gig at the city's Lyceum Theatre, captured in their first live album for Island Records.
By 1977, London itself was in a state of flux: torn between politics, royal pageantry and the burgeoning punk movement and disco scene; Exodus also channels that restless creative energy, and Marley's inquisitive reactions.
Music writer Vivien Goldman was present for the album's recording, and captures its backdrop and atmosphere in her excellent work The Book of Exodus (2006); she writes: "Exodus was a creative leap, a journey from one familiar style and technique in search of an unknown other, retaining the music's reggae patois while making it intelligible to a broader community."
Cedella Marley recalls: "When Bob came to London. I was mad, because he left us in Jamaica… but he really did something special here. Whenever I hear the track Punky Reggae Party (originally the single B-side to Jamming; included on later versions of Exodus), I can imagine him being in a flat somewhere here in London, and just a bunch of people coming in: the smoking, the music and the vibe.
He experimented with musical sounds that were not reggae, and he wasn't scared to do it." Marley's presence in London had also made a massive impact on "baby dread", DJ and budding filmmaker Don Letts, who had caught the 1975 Lyceum gig.
"It was absolutely an epiphany," says Letts, who was moved to follow Marley and his crew back to their hotel, and get to know the Jamaican artist.
On Exodus, Marley set rebel music to the sweetest melodies, and influenced multi-genre tributes, from protest soundtracks to Stevie Wonder's dazzling 1980 hit Master Blaster (Jammin') to various international covers, including a 21st-Century "global singalong" of One Love featuring talents such as alt-Latin star Manu Chao, Zimbabwean guitarist Louis Mhlanga, and LA bluesman Keb' Mo'. It's an undeniably conflicted legacy; Marley's motifs have since featured on everything from football shirts to ice-cream flavours, and the One Love Experience includes plenty of Insta-friendly photo opportunities and lyrical slogans — Shank explains: "Bob meant so many different things to different people, and different generations at this stage. What struck me was that when you look at the lyrics printed out, the message resonates more than ever today." — BBC Culture.
At the same time, the exhibition highlights Exodus within an ongoing politically conscious journey, including Marley and The Wailers' final studio albums: Survival (1979), Uprising (1980) and Confrontation (released in 1983, two years after Marley's death from cancer).
The songs feel vividly significant, at a time when countless people are still being uprooted from their homes, by political conflict or injustice, including the UK government's Windrush Scandal.
The music reverberates as much as it does because there is always fire blazing beneath the beauty.
Letts is characteristically direct about why Exodus strikes a timeless chord: "A lot of it is to do with the fact that the disparity between the haves and the have-nots hasn't really shifted. His audience is always going to be massive; he is the most recognised artist on the planet – not necessarily because he has sold more, it's simply that more people without money are being fucked over. As long as those numbers stay like that, Bob is gonna be the man." The Bob Marley One Love Experience is at London's Saatchi Gallery until April 18, 2022. – BBC Culture.