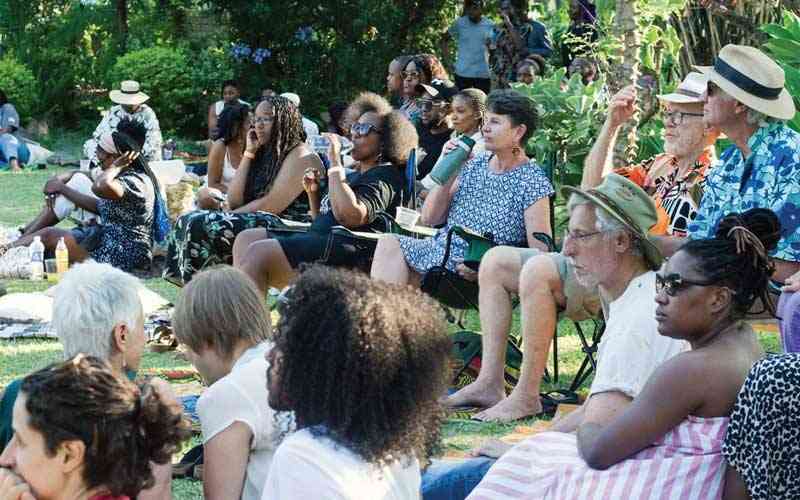 Sofar Sounds Harare revealed another line-up of surprise artists when they hosted their sixth intimate concert in a beautiful garden setting at a private residence in Highlands on October 28.
Four artists, comprising award-winning Afro-jazz artist Josh Meck, as well as Tru Bantu Tribe, Soulful Leah, and Mwendamberi (formerly Solution GC), delivered a diverse mix of genres ranging from Afro-jazz to traditional influences and classic opera music.
Meck said he had enjoyed every bit of his performance at Sofar.
"The audience was very attentive and very responsive, and the vibe was just perfect, chilled and amazing. The event was well organised and everything ran on time," Meck told IndependentXtra.
Solution GC who has rebranded to identify with his totem, Mwendamberi, mesmerised the audience with his soft melodious and husky voice coupled with his acoustic guitar skills.
"It was my first time performing on the platform, I enjoyed the set-up. The connections that Sofar brought to me were amazing, and the quality of the people that I met on that very day was just brilliant."
The audience at Sofar Sounds Harare events is a unique blend of music enthusiasts and professionals from various sectors who come together to enjoy intimate live music. Among the attendees were prominent figures such as gender expert, Carine Tredgold.
Tredgold has also previously worked as the production manager at the Harare International Festival of Arts.
"Thank you so much for a beautiful afternoon, really well put together. We are looking forward to the future with Sofar Harare," Tredgold said.
The Tru Bantu Tribe trio, consisting of songwriter and lead vocalist Whatmore Muchuwe, drummer and backing vocalist Nigel Madzinga, and bassist Takudzwa Mhindu, performed a traditionally themed set with music influenced by the Mbira, capturing the essence of their cultural heritage.
Another highlight of the concert was Soulful Leah, a Music Crossroads Academy alumni whose beautiful soulful voice enchanted the audience. The talented young vocalist, who has done backing vocals for several prominent Zimbabwean artists, wowed the audience with a rendition of Francesco Sartori's Italian song Con te partiro, famously known as Time To Say Goodbye.
The previous edition, hosted at the National Gallery of Zimbabwe in Harare on September 23, featured guitar virtuoso Trust Samende of the award-winning Afro-fusion outfit Mokoomba who delivered an unpremeditated solo act.
Primary curator of Sofar Harare Khumbulani Muleya, highlighted the uniqueness of each event. He said: "No two concerts are ever the same; we are always ready to showcase throughout different unique spaces around the city."
He added that artists who are interested in performing can apply through the Sofar website https://www.sofarsounds.com/about/artists.
Sofar's unique live experiences are places for artist discovery and community in non-traditional spaces such as living rooms, rooftops, art galleries and restaurants, and is present across 78 countries, including Zimbabwe. — Staff Writer.
Related Topics