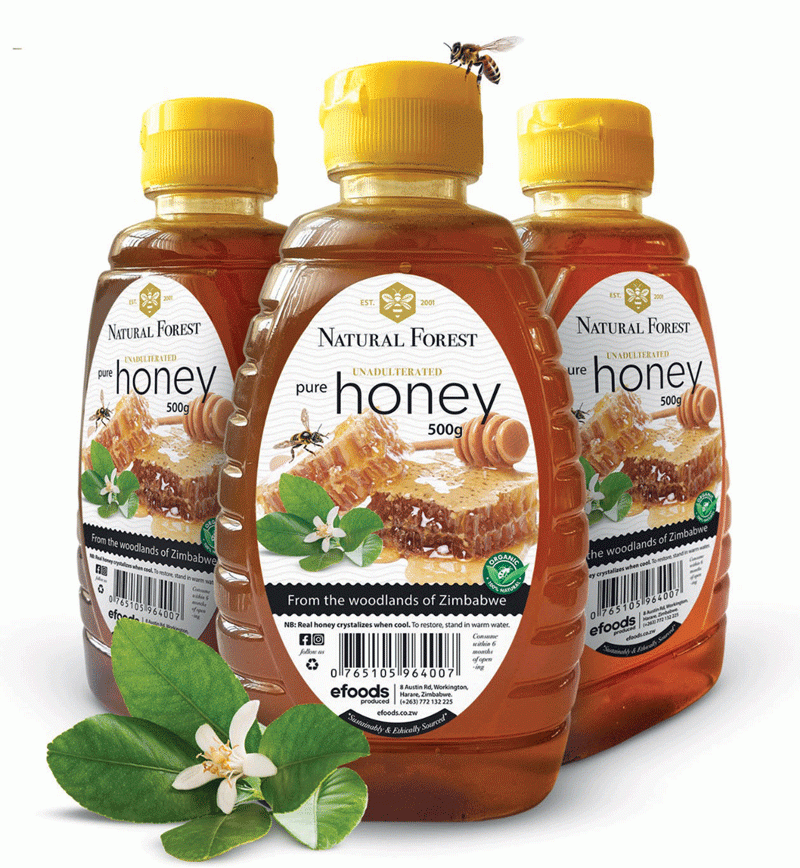 Local food manufacturer Efoods has acquired the local honey brand, Natural Forest.
Natural Forest is 100% natural honey brand which is widely available on supermarket shelves across the country.
Efoods is a manufacturer of premiere sauces, sachets and marinades "with a strong belief and drive to prove that quality products can be manufactured (from scratch) using locally sourced inputs, ingredients and expertise".
In an interview with IndependentXtra, Efoods marketing director Justin Evans said the food company will take on the brand, onboarding all staff and processing equipment at its Harare-based premises in this first major acquisition.
"The Natural Forest brand has a strong and reliable reputation of supplying pure honey to the market and in their 22 years of operation they have grown a dependable network of bee-keepers, harvesting wild honey from woodlands around Zimbabwe. The ethical principles involved, from bee to bottle, really resonate with us," Evans said.
"Unlike a lot of honey sold on store shelves, market tables and roadsides — we aim to maintain the integrity of the brand, not adding extenders, additives, or anything to dilute the pure nature of the product."
Due to the large-scale commercialisation process, especially in international markets, honey often has additives and sweeteners such as high-fructose corn syrup or brown rice syrup.
Scaling up like this ensures the longevity of a household brand and offers stronger drive, through a bigger platform, to promote awareness and education around honey and bee-keeping as a whole, he said.
While Efoods' focus is retaining the honey process as is, pure unadulterated honey extracted directly from the comb,the future looks exciting for the company.
"Future plans will include line expansion (differentiating by source, as different regions have different appearance and flavour characteristics), as well as value addition in a unique offering as yet unseen in the Zimbabwean market."
This is informed by the company's mission, of course, "to promote, support and grow Zimbabwean brands that can compete on regional and international markets. The Natural Forest brand is one held in high regard due to its product integrity, these values align with what we do on the sauce side".
General manager, Dawn Lardner-Burke, said the agreement is part of an ambitious growth plan for Efoods, and is a move to increase the scope of retail sales as well as diversify and broaden its offering to the food, catering, hospitality and service industry.
"With a long-standing food service background supplying sauces, sachets and marinades to most of Zimbabwe's biggest and best fast food chains and hotel groups, we hope to continue our mission of encouraging operators in the tourism and hospitality industry to put their faith in local suppliers and manufacturers," Lardner-Burke said.
The acquisition bolsters Efoods' position as a player in the food manufacturing and processing space driving competition and adding value locally, he added.
Honey has long been used since ancient times as both food and a natural remedy. Some clinical research shows that honey may help heal wounds and burns, fight infections, and alleviate cold and flu symptoms.
Today, the increase in the number of chronic illnesses such as diabetes and other related lifestyle illnesses has prompted an increase in the use of alternative or organic foods. Health conscious people are now adapting and turning to honey as a substitute for sugar or other sweeteners.
The food processor warns, nonetheless, that there is a high level of "food fraud" the world over.
"Highly-processed honey is readily available on store shelves, market tables and road sides. This honey is adulterated with cheap syrups, sugar and flavourings. We believe consumers want the real deal — honey processed the right way, ensuring the beneficial enzymes and nutrients remain intact."
However, Zimbabwe is one of the major natural honey exporters in Africa, including Zambia, Madagascar, Tanzania and Ethiopia.
According to available figures, global trade of honey has gone up 11% from 2019 to 2020.
Related Topics