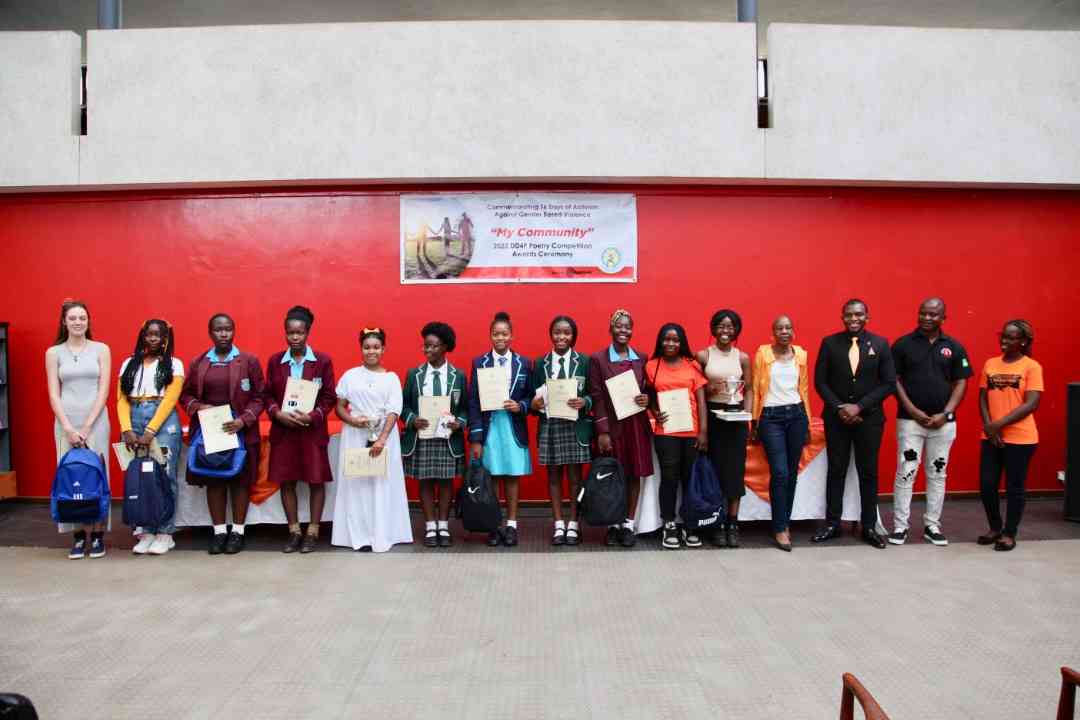 FOUNDER and director of Daughters Destined For Purpose (DD4P), Hopolang Phororo has challenged girls to look beyond themselves as Zimbabwe joins the rest of the world in commemorating 16 Days of Activism Against Gender-Based Violence.
Speaking at a DD4P Poetry Competition Awards Ceremony themed My Community at the City Library in Harare, Phororo said her organisation's vision was to see young women and girls grow in confidence and be empowered to fulfil their destinies.
Taking herself as an example, Phororo said her life got fully transformed when she converted to Christianity and got strength to open up and dedicate her life to transforming and making other young women and girls realise their dreams after overcoming depression caused by abuse.
"Allow yourself to look beyond yourself. Let life not just be me, myself, but try to make a difference in the lives of others," she said. "I would like to see more young people talk about gender-based violence (GBV) and strengthen each other to live with respect and dignity."
Renowned English teacher, poet and author Beverley Abrahams, who adjudicated said since the inception of the DD4P Poetry Competitions in 2016 they discovered that one in every five girls could be a victim of GBV. Abrahams said as an aftermath of a success story of the Shine Girls and Young Women empowerment programme, DD4P has extended its drive to advocacy and awareness in the fight against GBV by forming the Strength Programme which targets boys and young men.
"We use poetry because it is a universal language. Our effort has been to teach life values through shaping elements and poetic devices such as idioms, rhymes, rhythms, phrases and phraseology for a perfect teaching on issues related to the correction of gender-based violence," Abrahams added.
In the poetry competition, Myriad Francis from Rose Academy scooped the top award whose prize comprised of a cellphone tablet and a certificate in the 13 to14-year-old category, ahead of Vimbai Musoni from Chisipite Senior School, Mukudzeishe Chinyaka (Chisipite Senior School), Tamika Chihobvu Irene (Christian College) and Ruvimbo P Jekwa (Hillbright Science College), who all got prizes.
Tadiwanashe Natasha Mweta from Home Schooled, Harare, came tops in the 16 to 19-year-olds category which had Alan T Sibanda from Hillside College, Bulawayo, Kundai Mudimu and Rachel Marangwanda (Roosevelt Girls High) Lindsay Mapayi from Ridley Valley, Tutorial and Nicole Ruth Allot from Peterhouse Girls School as tight contenders for the award.
DD4P alumnus and ambassador poet Memory Bvungo, who is waiting to go to university encouraged fellow young girls to take up spaces in all areas which have been dominated by boys and men.
Bvungo, who won the DD4P poetry competition in 2020, led by example by scoring a first after featuring at the Regeneration International Science and Engineering Fair in Atlanta, Georgia, US. Her scientific innovations were selected for a world documentation and film archiving.
Vimbainashe Manyureni from DD4P said the orange colour used in GBV cycles is meant to brighten, call out and attract people in the race and fight against GBV.
UNWomen representative Simbarashe Moyo reiterated that the family institution is important in intilling moral values and championing the fight against GBV. Moyo added that GBV was now ambiguous in terms of definition as it includes harmful practices perpetrated against women, girls , men and boys.
Like earlier speakers, Moyo mentioned that one in every five girls have in the recent past been victims of sexual abuse and close to 57% of known GBV-related deaths were caused by close relatives.
In a lengthy speech, Moyo brought to light that the 16 Days of Activism Against Gender-Based Violence is an annual campaign that begins on November 25, the International Day for the Elimination of Violence Against Women and runs until the International Human Rights Day on December10.
"This year, the UN marks the 16 Days under the theme UNiTE! Activism to end violence against women and girls. Let's get ourselves energised to remain conscious of the harm caused by GBV throughout the year. More than one in three women experience gender-based violence during their lifetime. In 2021, nearly one in five women aged 20-24 married off before turning 18. Less than 40% of women who experience violence seek help of any sort," Moyo pointed out.
Childline Zimbabwe represantatives Sheila Chipangura and Munyaradzi Nhemachena revealed that their organisation has extended its coverage to online safety after realising that there is a lot of GBV happening in online spaces.
"The Screem Online is an online project that helps us track and suppress all harmful material such as bullying, sextapes and false identities which may ruin children's future. We have also incorporated disability experts such as Deaf Zimbabwe Trust to help on best practice in protecting people with disabilities," said Chipangura.
Follow us on Twitter @NewsDayZimbabwe
Related Topics