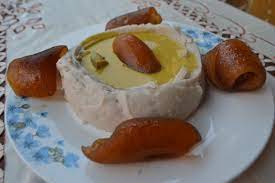 Cameroon is a country located in the heart of West Africa. Abundantly blessed with wildlife and varied terrain, Cameroon borders Nigeria and is situated right amongst many other major African nations, of which the cuisine is a vivid reflection.
Cameroonian cuisine is inspired by the mix of different cultural groups and diverse ethnicities from across West Africa, and is eponymous of African cuisine in general.
Most of the Cameroonian dishes are influenced by the Germans, French, and Portuguese, but they also value the traditional way of preparing their dishes which is to provide a rich cultural centre of traditional food.
They have different specialties in which they incorporated different spices in preparing those dishes to make them as flavourful as their culture and traditions.
Fertile soil means that a wide variety of fruit and vegetables are abundant, making them staples of the Cameroonian diet. Cassava, okra, bananas, fufu, peanuts and plantain are some such commonly grown fruits and vegetables.
So without further ado, here are the most popular traditional dishes of Cameroon.
Accra Cassava
Accra Cassava is one of Cameroon's popular street foods. It is crunchy on the outside and chewy on the inside. Accra Cassava is made with just two ingredients: cassava and salt. But, you can also add an overly ripe banana to sweeten it, which a lot of sweet-tooth people also love.
A lot of people enjoy it when it is fresh out of the pan as it is best eaten warm.
Ndolé
One of the top Cameroonian dishes is Ndolé which is somewhat considered "the unofficial dish" of Cameroon. Ndolé is an aromatic Cameroonian spinach stew that is made of spinach and bitter leaves.
The stew is flavoured with crayfish and garlic, and fortified with beef and shrimps. It is one of the most sought after dishes in Cameroon and is considered as a comfort food by the locals.
Ekwang
Ekwang is a dish that is very tedious to make and takes a lot of time to prepare. However, it is well worth the wait! Ekwang consists of grated cocoyams in cocoyam leaves, cooked with different meats, dried fish, crayfish and palm oil.
Poulet DG
Poulet DG is comprised of chicken plantains and vegetables, and is a cross between a classic French stew and a stir-fried chicken meal. There are different variations on the preparation of Poulet DG depending on the occasion, making it perfect for holidays and gatherings.
This French-inspired dish uses indigenous vegetables, spices and plantains, and is served widely across the country, even in fine-dining restaurants.
Achu Soup
Achu Soup is a gloriously yellow, delicate soup made with a combination of beef or chicken broth, limestone, red oil and a lot of different spices.
It is most common in the Western and North West provinces of Cameroon and is usually prepared at home by the locals.
Jollof Rice
Jollof is a very popular African dish that consists of rice and vegetables cooked in a flavorful tomato-based broth.
It is super easy to make and has no specific uniform method of cooking but is typically made using an oven and stove top.
Jollof rice is considered to be a legendary one-pot dish that is popular not just in Cameroon but also in Ghana, Nigeria, Sierra Leone, Liberia and Togo.
Kati Kati
Kati Kati is an African grilled chicken that is sauteed with different spices. It is one of the oldest and most distinctive dishes in the Northwest province of Cameroon.
Kati Kati is prepared in the traditional way, where a freshly butchered chicken is roasted over an open flame and flavoured with different seasonings and vegetables.
African meat pie
Cameroon's meat pie is basically a beef empanada that is slightly sweet, flaky and crusty. It is made using a combination of ground meat, tomatoes, onions and parsley.
The end product is moist and tender, which is understandably why it is one of the most popular dishes throughout Africa.
Egusi soup
Egusi Soup with cabbage is a healthy stew that is easy to make, with lots of cabbage, protein, and healthy oil. It is a favourite of many Cameroonians because you can make it in just a short period of time. It is both deliciously savoury and surprisingly healthy.
Egusi is the ingredient that is used to thicken the stew. But if egusi is not available, it can be substituted by pumpkin seeds (aka pepitas seeds).
Kwacoco Bible
Kwacoco Bible is a staple dish mostly eaten by a tribe in the South West province of Cameroon, called Bakweri. It is made from grated cocoyam mixed with smoked fish, red oil, spinach and various spices.
The main ingredient is cocoyam, which is a starchy root vegetable that is cooked in all forms and is enjoyed in most tropical countries. It is then wrapped in plantain leaves and steamed until it is soft and well-incorporated. — Travel Foold Atlas.