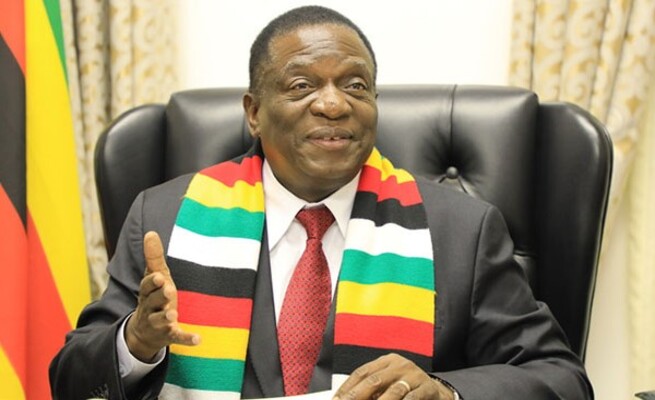 PRESIDENT Emmerson Mnangagwa and his ruling Zanu PF party have finally stopped pretending that elections in the country are democratic.
At the start of July, the government appointed new commissioners to the Zimbabwe Electoral Commission (Zec), a body that runs elections and adjudicates over poll disputes.
The problem with the new appointments is that several of them are reportedly children or relatives of senior government or party officials, the most eye-catching being Abigail Millicent Mohadi Ambrose, the daughter of Zanu PF vice-president, Kembo Mohadi.
Until March 2021, Mohadi had served as the country's Vice-President since 2018, and quit after his reported improper sexual liaisons with married women, including one of his subordinates. Local media reports showed that his daughter struggled during the interview process for the commissioners and failed to answer some questions.
The biggest threat to Mnangagwa's hold on power is opposition leader Nelson Chamisa and his Citizens Coalition for Change (CCC) who called the appointments "unacceptable" and "raise serious conflict of interest issues and go to the root of the constitutional imperative for Zec to be independent and non-partisan".
However, if anything, Zanu PF has shown that it pays no heed to such criticism and has superintended over the collapse of the justice system, the impoverishing of local government and pauperisation of labour in general and in particular, the civil service.
By stuffing the electoral commission with their own offspring with pretty much no consequence or criticism from an emasculated opposition, the Southern Africa Development Community or the African Union, Mnangagwa and his ilk are simply ensuring they can never lose an election to the opposition, regardless of whether they are voted into power.
The appointments raise several questions that so far no one in Zanu PF or government has bothered to answer: Can a child serve against the interests of their parents? Can they announce the electoral defeat of their parents' party? Can the daughter of a vice-president be trusted to be neutral in matters involving her father and his party?
This is the same commission that announced a wrong constituency winner in the 2018 election and when challenged, acknowledged its mistake, but declined to reinstate the winner.
As a result, Dexter Nduna is Member of Parliament for Chegutu West constituency despite losing to MDC Alliance's Gift Konjana.
With no support from the West, crippled by the COVID-19 pandemic and all electoral promises from 2018 torpedoed by sanctions, rising inflation coupled with a fast weakening local currency, Mnangagwa has struggled to sustain any semblance of economic recovery or sound monetary policy, which has left the local currency at the mercy of inflation.
For the second time in a decade, Zimbabweans are seeing their currency, savings and earnings being wiped out by hyperinflation and an irresponsible government whose leaders seek to line up their pockets.
Mnangagwa was a member of the late former leader, Robert Mugabe's inner circle since before independence and had a front row seat to the currency crash of 2008, but is repeating the same mistakes his mentor made that led to a complete wipe-out of the local currency when inflation hit 500 billion percent in December 2008.
Renowned economist Steve Hanke of John Hopkins University in the United States of America opined recently that Mnangagwa was giving a "masterclass in economic stupidity and corruption."
Mnangagwa, whose very narrow victory in 2018 was only confirmed by the Constitutional Court after a polarising campaign from which the country is yet to heal, knows what it is like to face Chamisa in an election.
Chamisa has up to now refused to acknowledge Mnangagwa's victory and has often referred to him as "illegitimate".
Mnangagwa has successfully emulated Mugabe's brutal reign, and even perfected it.
The arrest, beating up and jailing of opponents has become a staple, while human rights defenders have been silenced by a proposed law which critics say is designed to provide the government with legal tools to control and ultimately silence civil society.
It appears that the rulers don't just want to stay in power, but ensure they do not face any potential consequences for their despicable actions when they finally retire.
Democracy, anyone?
Related Topics