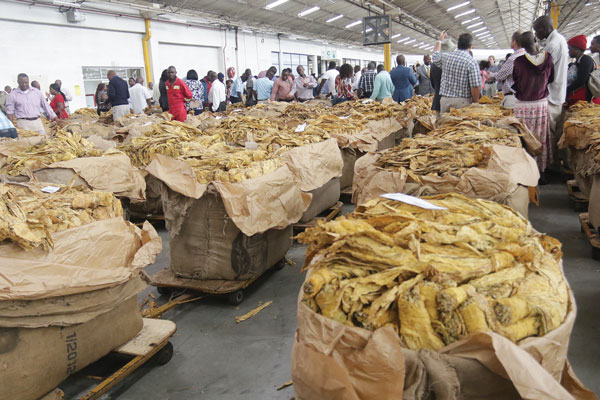 ON March 30, the tobacco marketing season opens.
Traditionally, this would be good news, because this was usually the period Zimbabwe received the highest foreign currency inflows as foreign firms flocked in to buy the golden leaf.
Before the sector was flooded with extortionist foreign contracting firms, cash-strapped Zimbabweans, including non-tobacco farmers, benefited from the stability that kicked in at the onset of the marketing season.
The marketing season was also characterised by increased capacity for farmers to take care of their families.
The Reserve Bank of Zimbabwe, which has been battling to distribute the little foreign currency flowing into the country, looked forward to the tobacco marketing season to address many issues that confronted the volatile economy.
This is now all history. Politicians, some with selfish agendas, have suffocated the public institutions that funded tobacco production, leading to an emergence of the contract system.
Output has been increasing in terms of hectares planted, but marvelling at rolling tobacco fields during the planting season has been the only positive.
Vast tracts of Zimbabwean farms have been decimated by environmental degradation, without any benefit flowing back to Zimbabweans who work long hours in the fields, under difficult conditions.
Industry estimates say up to 96% of the country's output is now being grown under funding from contractors, who collect raw produce at cheap prices and export to their countries.
Former Tobacco Industry and Marketing Board CEO Andrew Matibiri says 99% of Zimbabwe's tobacco is being shipped raw by contractors, who later process it and make a killing.
Official statistics indicate that over half of the US$748 million earned by golden leaf farmers in 2020 was pocketed by these contractors.
The bulk of money generated by Zimbabweans develops other economies.
What is only left in this country is the visible scars of deforestation, land degradation, excruciating poverty among tobacco farmers and broken down families.
This is why the current tobacco production and marketing system must be reviewed urgently.
Zimbabwe requires investment from foreign corporations to fund thousands of undercapitalised farmers who moved to tobacco production at the turn of the century.
But this investment must come in a way that benefits those doing the donkey work on vast tracts of lands in Zimbabwe.
Surely, this money must not open avenues for unchecked exploitation.
If the government cannot come up with a value chain system that addresses these handicaps, Zimbabwe's tobacco will turn into another resource curse, just as have diamonds and gold, creating billionaires across the globe while impoverishing locals.
A new home-grown funding system that takes into account the fact the crop is being championed by human beings who have the same needs at foreign tycoons must be developed.
This is not new really. Before 2004, locally-funded farmers were a great success in tobacco production.
They underpinned Zimbabwe's resilience to a wave of crises that hit the economy during hyperinflation, while at the same time developing their families.
In the case of tobacco production, this country requires a "Zimbabwe First" policy to address the problems confronting