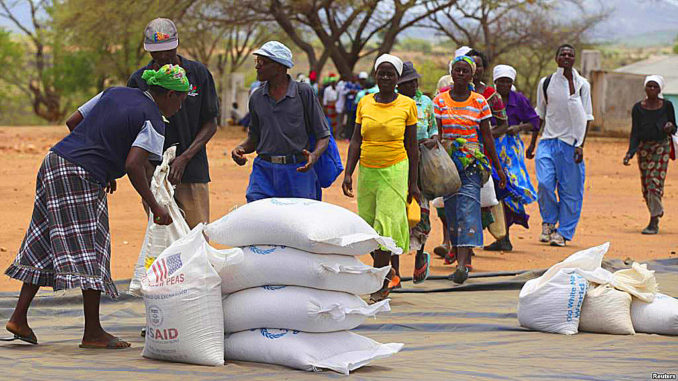 BY NUNURAI JENA
FIVE million Zimbabweans, 42% of which are urban dwellers are food insecure despite government claims that the country has enough grain stocks to see it through to the next harvest.
World Food Programme (WFP) country spokesperson Maria Gallar told Standardpeople  recently  that the organisation was currently supporting  860 000 people with food and cash handouts.
"According to vulnerability analysis, more than five million people are estimated to be food insecure in Zimbabwe today and humanitarian assistance is still required. Only last month (December), the World Food Programme supported 860 000 people, with food and cash assistance," Gallar said.
Gallar added that WFP was also concerned about the rising number of city dwellers in need of food.
"We are particularly concerned about cities. The increased crop yield has not driven improvements for the urban poor, who are constrained by Covid-19 containment measures. Forty-two percent of all city dwellers in Zimbabwe are food insecure," said the WFP official.
"Unfortunately, food insecurity and malnutrition are not problems from the past. Additional investments and resources are required to achieve zero hunger in Zimbabwe. In the first half of 2022, the World Food Programme has a shortfall of US$74 million."
But Grain Marketing Board (GMB) spokesperson Nixon Kanyemba, told  Standardpeople that the country has enough grain to sustain it until the next harvest, which will be around April 2022.
"Yes we are food secure until the next harvest," Kanyemba said.
He, however, refused to shed light on why organisations like WFP continue to support families when the country has enough grain.
Kanyemba then referred questions to senior government officials in the ministry of agriculture who were not responding to questions despite numerous promises to do so.
Zimbabwe Farmers' Union (ZFU) director Paul Zacharia said the country has enough grain, but only faces distribution challenges as some areas receive more grain than others.
"With the 2.7 million metric tonnes harvested this year, the country is food secure but what is lacking is equal distribution that has deprived urban areas," Zacharia said.
Zimbabwe Integrated Commercial Farmers' Union president Mayiwepi Jiti said the country should invest more in dam construction and irrigation equipment for continuous water supplies, and not to solely depend on the rains.
"For the country to be food secure, we should invest more in dam construction and irrigation equipment because of the erratic rains caused by climate change," Jiti said.
Agriculture meteorologist Benjamin Kwenda said for the country to be food secure, farmers should grow small grains that are quick to mature because the country is now experiencing erratic rains due to climate change.
MDC Alliance shadow agriculture minister Allan Markham blasted the government for its lack of transparency on how the Agriculture ministry uses its budgetary allocations.
Markham said the Agriculture ministry traditionally receives the biggest chunk of the national budget, but fails to account for the funds.
WFP said this year alone they distributed 107 000 metric tonnes of cereal, pulses and vegetable oils to 1.5 million people in rural Zimbabwe.
Related Topics