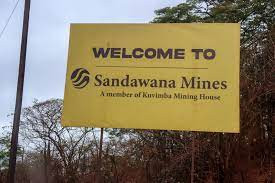 MINING giant Kuvimba Mining House (KMH) plans to invest US$220 million in capital expenditure to bring the Sandawana Mines project online by 2025, businessdigest can report.
KMH, which is 65% owned by the government, took over Sandawana Mines in 2019 and has so far invested more than US$56 million to make it one of the biggest lithium producers in the world.
The mine, once owned by Rio Tinto, is rich in vast mineral resources that include lithium, tantalite, copper and gold.
KMH energy cluster director Trevor Barnard told journalists at a press conference in Harare on Wednesday that the project was expected to be commissioned in the first quarter of 2025.
"We're expecting the total capital expenditure to get this project into operation of around US$220 million. That would include all infrastructure essential for the project, which include power, water, road works, housing, etcetera, as well as the actual opening up of our mine and the processing plant," he said.
"Commissioning, we would expect to start in the first quarter of 2025. So, it's about 15 to 18 months from where we stand today and we hope to be in full production definitely by the second quarter in 2025.
"We're expecting to handle throughput of around three million tonnes per annum of ore and that would translate into a product of around half a million to 600 000 tonnes per annum."
Zimbabwe is the sixth-largest producer of lithium in the world.
Sandawana commenced open pit mining operations in January this year although at a limited scale.
The area that they are mining constitutes around 1% of the total area and to date, they are sitting on over 900 000 tonnes of stockpile that they have mined.
"That ore is either exported at different grades or we also transfer it to some of the processing plants around Zimbabwe already and they're manufactured to concentrate for us to sell in the international market," Barnard said.
The mining firm also indicated that it was committed to raw material beneficiation and value addition. To that end, feasibility studies for a 4,5 million-tonne per annum beneficiation plant were underway.
"The beneficiation plant at this stage would be the first to produce the spodumene concentrate, which would be between 5 and 6% lithium oxide grade. Lithium sulphate or lithium carbonate would follow afterwards," Barnard said.
"That is not included in this first budget or timeframe, so the first step is just to start crawling before you walk and then eventually you run.
"Then we will look at going into the production of lithium sulphate. Once we get that sorted out, the next step would be lithium carbonate."
The firm expects to employ around 1 000 people once the plant is operational.
Related Topics