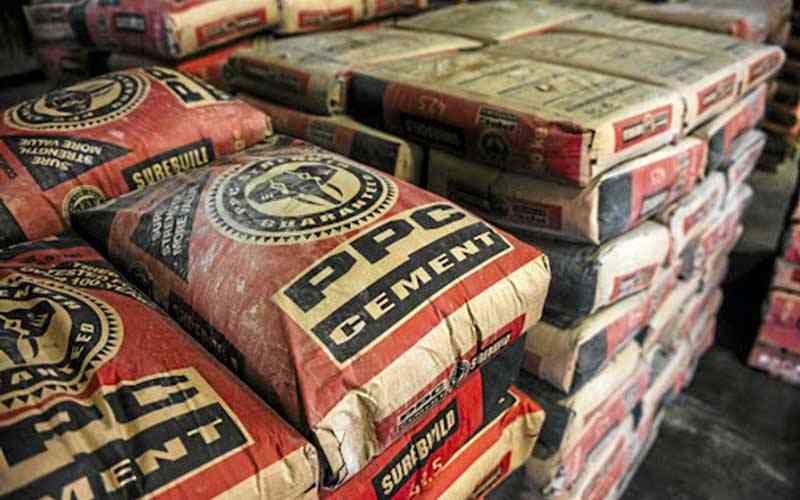 CEMENT maker PPC has accused retailers of inducing artificial shortages of cement in the market, which has resulted in prices doubling over the past two months.
Cement has been hard to come by on the market for the past few weeks, which started when one of the nation's leading producers, Khayah Cement Limited (Khayah)'s mill broke down.
Demand surged as a result, and some stores profited from the situation by stockpiling the product to resell for between US$18 and US$20 per bag.
To curb shortages, the government developed an "administrative arrangement" with the Zimbabwe Revenue Authority to allow for the importation of five metric tonnes (MT) of cement per importer.
"Some people may start taking advantage of that shortage. They buy lots of products, start hoarding, and then they start charging (exorbitant prices)," PPC Zimbabwe managing director Kelibone Masiyane told businessdigest.
"And now, because there is a panic in the market, people are desperate and obviously since others are working on major projects, they will just buy it at whatever price. We have not adjusted our prices."
"We've got some of our competitors that went down for quite a period. At PPC, we actually ramped up our production to try and cover the gap, but I think the gap was just too big. But, we are happy to say Khayah is back online."
After the government allowed for the importation of up to 5MT, both Khayah and PPC announced that their prices would retail at between US$10,50 and US$11.
However, regionally, from South Africa and Zambia in particular, the price per bag of cement retails at between US$5 and US$6.
While that is cheaper than in Zimbabwe, if the cost of importation is factored, the landed cost will come in at about between US$9 and US$10.
But, since the government has established an administrative arrangement with the tax authorities, the final cost of cement could end up even lower.
In a statement on the microblogging social media platform, X (formerly twitter), Khayah did not reveal what had caused their mill to break down.
"As Khayah Cement, we are pleased to inform our stakeholders that we have since restored our mill and our operations are now back to normal. This will ensure a steady supply of cement to all our customers," the cement maker said.
The shortage of cement has, however, continued despite the return of Khayah to production.
"What I am saying now, the current projects are absolutely affected because we need to continue purchasing cement," Zimbabwe Building Construction Association president Petros Kagwere said.
"And if we are to purchase cement with the current price now, the cost of that project will be higher.
"If we are to continue using the parallel market price now, there is no way those projects will live at the minimum because the cost of completing those projects will be astronomical, and it will be very costly for those projects.
"So, we are urging the manufacturers, if they have any challenges, to approach the government," he added.
Kagwere said if the situation remained the same, it would affect their projects.
Women In Construction president Elizabeth Chikudunga said the shortage of cement crippled their operations.
"Us women in construction, we are having many challenges, and the shortage of cement is making it even worse," she said.
Chikudunga said the government's intervention will bring competition into the market, resulting in competitive prices.
Related Topics