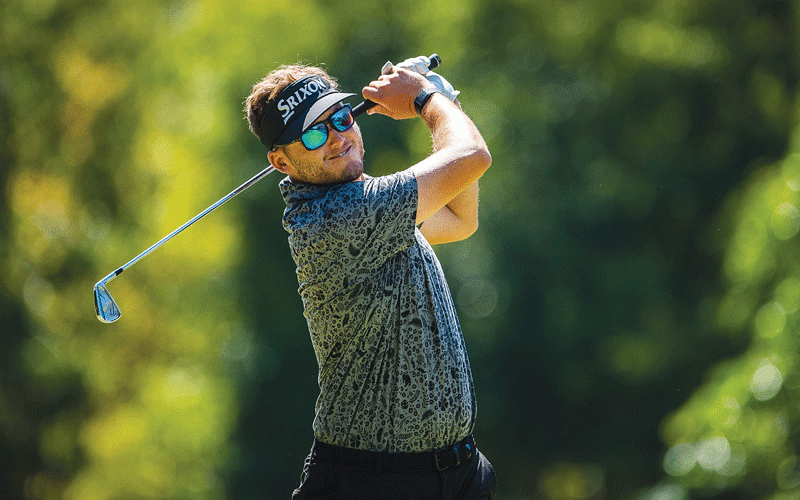 SOUTH African golfer Adam Breen compared the FBC Zimbabwe Open to one of the world golf's major championships after carding a four-under 68 to take the lead at the halfway mark in the Sunshine Tour event at Royal Harare Golf Club yesterday.
The 25-year-old began the second round in a four-way tie for second after carding an opening 67 on Thursday and continued the momentum with another accomplished display.
Breen, who is in his first year as a professional golfer, compared the country's flagship golf tournament to the US Open due to the world-class facilities at the picturesque Royal Harare Golf Club.
"The back nine, especially, is close to being like the US Open golf in my opinion," said Breen, who represents Country Club Johannesburg.
"There's a lot of support here, a lot of talented Zimbabwean golfers, so people are out there and they're keen to watch their home talent and it's set up very well.
"I mean FBC and the Sunshine Tour (are doing a good job), look around on the 18th and you've got the marquee tents and all of that and they look after us and the greens are quick and it just gives that extra good feel. So, I guess it makes it pretty special. It's always a cool week."
Breen is making his second appearance in the FBC Zimbabwe Open after failing to make the cut during last year's edition of the tournament, which was only his second event since joining the professional ranks.
After struggling to make an impact last year, Breen appears set to challenge for the coveted title this time around.
He attributed his solid performances thus far to the hospitality he has received from his friend, Zimbabwean professional Stuart Krog, who is also playing in the Zimbabwe Open.
"Last year, I think, was my second event on tour and missed the cut, but it was still like my favourite week of the year. This year I've been lucky enough that I'm staying with Stuart Krog at his house," he said.
"He's a local and (we are staying with him together) with (Kyle McClaitchie and James Pennington, so we got such a good group of people. Stu's parents are fantastic. They've been cooking us amazing dinners, taking us to the golf course and we feel right at home. So, I love it here. It's quickly becoming one of my favourite tournaments, I think."
Breen hit the ground running with three birdies in his first six holes to move to six under for the tournament before his first bogey at the 10th hole.
He recovered with other birdies holes number 12, 15 and 18 to sign for 68 for a 36-hole total of nine-under-par 13.
Another South African golfer Neil Schietekat is alone in second position on eight-under after carding a three-under-par 69 while his compatriot Jacques de Villiers is a further shot back in third on seven-under-par.
The overnight leader Wynand Dingle returned a level par round of 72 to drop to fourth position on five under while the pre-tournament favourite fired a 69 to move into a seven-way tie for sixth position on four-under-par.
Amongst the players on six-under-par is the 2016 Zimbabwe Open winner Lyle Rowe and Peter Karmis of Greece who is the only non-South African player in the top 10 on the leaderboard.
Englishman David Wicks is in 13th position on three-under-par.
Related Topics